Boeing kicked off 2022 with positive order momentum, padded its backlog during the month with orders for an additional 75 jets, including for the 737 Max and the newly launched 777-8 Freighter.
The airframer landed new orders for 77 jets and logged two order cancellations during the month, leaving it with a net figure of 75 new orders.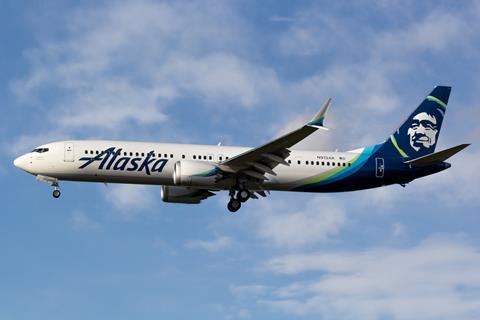 The deals included orders from Qatar Airways for 14 of Boeing's in-development 777-8F, which the airframer launched last week with Qatar's commitment. As part of the deal, the carrier also agreed to convert 20 existing orders for the 777X to -8Fs, for a total of 34 of the new freighters.
Also in January, Boeing landed orders for eight examples of the current 777F, including two from Qatar Airways, four from China Airlines and two from unidentified customers.
Additionally, Boeing booked commitments in January for 55 737 Max aircraft: 23 from American Airlines, 12 from Southwest Airlines and 20 from unnamed buyers.
The two order cancellations, both for 737 Max, came from lessor Aviation Capital Group.
Also during January, Boeing added another 23 jets to its backlog through accounting adjustments.
Specifically, Boeing moved orders for 17 aircraft out of its backlog and into a special accounting bucket reserved for orders the company suspects will not close due to factors including the financial condition of the buyers. But it also shifted orders for 40 aircraft from that bucket to its backlog.
Boeing's deliveries in January came to 32 aircraft – 27 737 Max jets, a 777F, plus four aircraft for military programmes. Deliveries of 787s remained paused in January due to manufacturing quality issues.
Boeing ended January with 4,316 aircraft in its backlog, up from 4,250 at the end of 2021.