Boeing has pushed back its expected first 737 Max 7 delivery until next year, marking continuation of its struggle to get the long-delayed aircraft into customers' hands.
"We continue to expect the 737-7 to be certified in 2023, and now expect first delivery in 2024," says a Boeing securities document filed on 26 July.
Boeing had previously anticipated that in 2023 it would both secure the Max 7's certification from the Federal Aviation Administration, and begin delivering the type.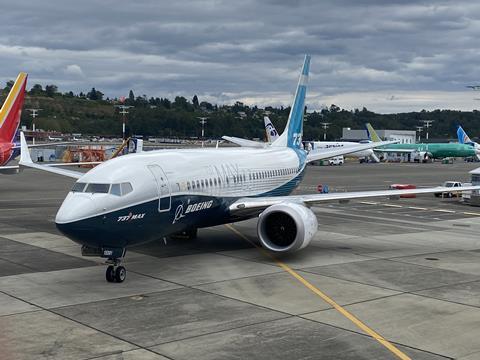 The jet's entry into passenger service has been repeatedly delayed since its first flight in March 2018. The delays came amid the grounding of the 737 Max 8 and Max 9, and then amid the Covid-19 downturn.
Boeing has been working the get both the Max 7 (the smallest member of the Max family) and the Max 10 (the largest) through certification at a time when the FAA – responding to two Max crashes – significantly stepped up its scrutiny of certification programmes.
Boeing on 26 July said it expects the 737 Max 10 will "begin FAA certification flight testing in 2023, with first delivery in 2024". That timeline is unchanged since Boeing's last update in April.