Boeing logged seven net new aircraft orders in October, a period during which the company lost three orders to cancellations and when 787 deliveries remained on hold.
The Chicago airframer also in October delivered two 737-800 Boeing Business Jets – notable because recent BBJ deliveries have been 737 Max-based aircraft.
The results mark the ninth straight month during which Boeing landed more orders than cancellations.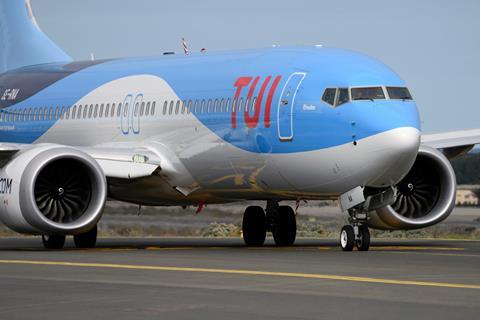 The October activity included orders for 10 new aircraft: deals with unidentified customers for eight 737 Max and the sale to shipping company Maersk of two 777 Freighters. Maersk's air freight operation Star Air will fly the jets.
But during October lessor Aviation Capital Group cancelled an order for one 737 Max and Air Lease nixed orders for two 787-10s, bringing net new orders to seven.
The 787 cancellations come amid Boeing's long-running halt of 787 deliveries due to quality issues and pending approvals by the Federal Aviation Administration.
By comparison, in September Boeing landed orders for 27 aircraft and cancellations for five jets.
Boeing's October backlog also increased by 17 aircraft in October due to the company shifting aircraft between its backlog and a special accounting bucket called "ASC-606". That bucket holds orders that Boeing suspects might not close due to factors including the financial condition of the buyer.
Boeing delivered 27 aircraft in October, down from 35 in September.
October deliveries included 22 737s, among them 18 737 Max, two 737-800-based BBJs and two 737NG-based P-8 military surveillance jets. Boeing had not delivered a 737NG-based BBJ since June 2019, its data shows.
Customers to receive 737 Max in October include lessor AerCap (two aircraft), Aeromexico (two), Air Canada (one), lessor CDB Aviation (two), Ryanair (six), Tui Travel (two), Turkish Airlines (one) and United Airlines (two), according to Boeing.
Boeing's October deliveries included five widebody jets, among them one 747-8F delivered to UPS, one 767F and one 777F to FedEx, one 777F to Eva Air and one 767-based KC-46A refuelling tanker to the US Air Force.
The changes leave Boeing's backlog at 4,160 aircraft, including 3,336 737s, eight 747-8s, 95 767s, 310 777 and 411 787s.