Boeing recorded 88 cancellations for the 737 Max in November, and delivered just seven jets, as the coronavirus pandemic continued hammering the commercial aviation market.
The seven deliveries mark the lowest shipment figure since July and reflect soured demand, travel restrictions and delays resulting from 787 inspections, the airframer says.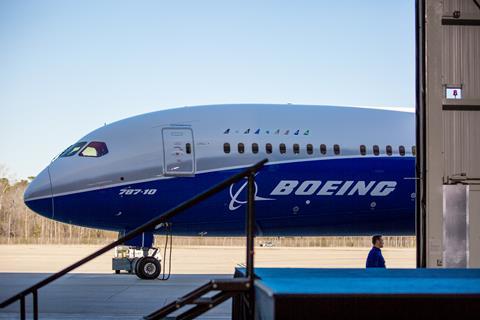 Boeing closed November with 4,240 aircraft in its backlog, down 35 in one month. The November figures do not include an order by UK budget carrier Ryanair, placed in early December, for 75 737 Max 8-200s.
In November, customers cancelled orders for 88 aircraft – all 737 Max. Cancellations came from Air Canada (10), lessor Air Lease (13), Virgin Australia (48) and unidentified customers (17), Boeing says.
However, Virgin Australia, which has been restructuring, placed a new order for 25 737 Max 10s, according to Boeing.
In addition, the airframer landed orders for two other aircraft in November, both 767-based KC-46 tankers, ultimately destined for the Japan Air Self-Defence Force.
Boeing delivered just seven jets in November: two 737NG-based P-8 military surveillance aircraft, one 747-8 Freighter, one 767-300F, one 777-300ER and two 777Fs, the company says. Notably, no 787s were handed over last month.
Boeing is taking "additional time" to inspect 787s for airframe issues that came to light earlier this year, the company says, while declining to elaborate.
"We also expect the process will continue to slow [787] deliveries in December," Boeing adds.
The 4,240 jets in Boeing's backlog at the end of November included 3,333 737s, nine 747s, 81 767s, 346 777s and 471 787s.
Year-to-date, Boeing has delivered 118 aircraft and taken orders for 94 jets.
But it has reduced its backlog this year by more than 1,100 aircraft. Those include nearly 500 cancelled orders and 600 "accounting" adjustments – aircraft removed by Boeing because the airframer doubts customers will actually take the deliveries.
Boeing's figures specify the mix of changes that brought its backlog from 4,275 at the end of October to 4,240 at the end of November.
Those include 88 cancellations, 27 orders, seven deliveries and the removal of 33 aircraft from Boeing's "ASC-606" accounting bucket. Aircraft removed from that pool are added back into the backlog.
Boeing removes jets from ASC-606 under two circumstances: when customers formally cancel orders or when a customer's credit quality changes positively, leading to a higher likelihood that the airline will take delivery of the aircraft, it says.