Boeing landed another 79 net orders for new aircraft in December 2021, continuing its recent positive momentum and pushing its full-year total to 535 jets.
Though Boeing's 787 programme remains in limbo amid a delivery halt, demand for the 737 Max returned last year as airlines reacted to a revival of short-haul and domestic air travel; freighter sales have also been brisk.
In 2021, customers ordered 909 new aircraft, offset by 430 cancellations. Accounting adjustments were responsible for an additional 56 new commitments, resulting in a net total of 535 orders, the airframer said on 11 January.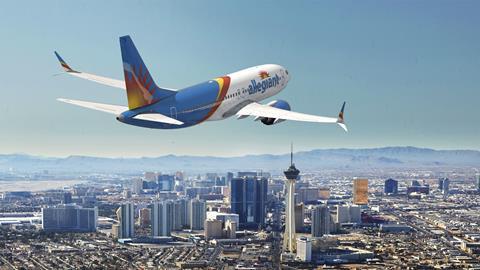 Those net new orders included 395 737s, five 747s, 65 767s and 104 777s. However, the 787 was in negative territory – to the tune of 34 aircraft at the net level.
Of the 430 cancellations last year, 395 were 737s, three 747s and 32 787s, Boeing's figures show.
The 2021 order tally reflects a significantly improved business environment for Boeing. In 2020 – amid the pandemic and with the 737 Max crisis ongoing – Boeing logged negative 1,194 net orders. It had negative 87 net orders in 2019.
Boeing's 2021 order activity
737
747
767
777
787
Total
Gross orders
765
5
65
53
21
909
Cancellations
395
3
0
0
32
430
Accounting adjustments
25
3
0
51
-23
56
Net orders*
395
5
65
104
-34
535
*Net orders include gross orders minus cancellations plus accounting changes
Source: Boeing
Order activity "normalised after two difficult years, with breadth and depth across the product line", Boeing says of 2021.
The company calls 2021 a "record year" for its freighter business. It landed orders last year for 84 new freighters from across its portfolio of new-build cargo aircraft, which comprises the 747F, 767F and 777F, from customers including Atlas Air Worldwide, Emirates, FedEx, Lufthansa Cargo, shipping company Maersk, UPS and Silk Way West Airlines.
Also in 2021, Boeing took contracts to convert more than 100 passenger aircraft into freighters – "more than double" the number of such orders in pre-pandemic years, the company says.
Boeing also ramped deliveries last year to 340 aircraft from just 157 in 2020, its figures show: 263 737s, seven 747s, 32 767s, 24 777s and 14 787s.
However, 787 deliveries were halted for most of 2021 – and remain on hold – as Boeing worked to address manufacturing quality problems that raised concern with the Federal Aviation Administration.
December marked Boeing's eleventh consecutive month of positive order activity, with the company logging deals for 80 new aircraft, including 57 737 Max, 19 767Fs and four 777Fs. The 737 Max orders included a landmark deal with US discount airline company Allegiant Travel, which agreed to purchase 50 of the jets. Allegiant is currently an all-Airbus A320-family operator.
The December orders were offset by lessor Aviation Capital Group's cancellation of one 737 Max contract, and Boeing moved one 737 Max from the backlog to its "ASC-606" accounting bucket. The airframer places orders in that category if it suspects the sales might not close due to factors including the financial condition of buyers.
Boeing delivered 38 jets in December, including 32 737 Max.
The changes left Boeing's end-2021 backlog at 4,250 aircraft.
Boeing's end-2021 backlog
737
747
767
777
787
Total
3,414
6
108
312
410
4,250
Source: Boeing
Though significantly improved, Boeing's 2021 delivery figures lagged those of competitor Airbus, which handed over 611 jets last year. But Boeing's 535 net order total edged out that of its rival, which landed 507 net new orders.