Boeing landed orders for 82 new commercial aircraft and was hit by only 51 cancellations in February, marking the first month since November 2019 that the airframer's net order total has been in positive territory.
While February marked a turnaround for Boeing's backlog – with 31 net orders – several major customers cancelled 737 Max and 787 orders in the period, and Boeing managed no 787 deliveries.
The company says its February performance reflects continued fallout from the pandemic but that airlines are showing some confidence in recovery and beginning to invest in new jets.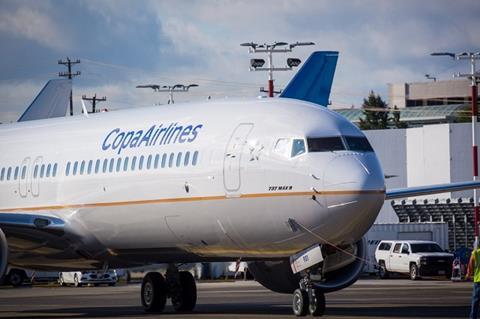 The 82 new orders included 39 737 Max – 25 examples ordered by United Airlines and another 14 from unidentified customers.
The Chicago airframer also took new orders for 27 767-based KC-46 tankers from the US Air Force – a deal announced in January that hit Boeing's backlog in February. Additionally, unidentified customers ordered four 787-10s and one VIP-configured 747-8.
Singapore Airlines ordered 11 777Xs as part of a swap deal for 14 787-10s disclosed by the carrier last month.
But Boeing now confirms Singapore cancelled orders for 19 787-10s in February, including those converted to 777Xs.
Additionally, Boeing's customers cancelled 32 orders for the 737 Max last month: 15 from WestJet, seven from Copa, eight from lessor Jackson Square Aviation, one from lessor BOC Aviation, and one cancelled by an unidentified Boeing Business Jet customer.
Also in February, Boeing added to its backlog 16 aircraft (five 737s and 11 777s) that the company had previously removed due to ASC 606 accounting regulations. Boeing moves jets into that category when it has less confidence the orders will close – often reflecting customers' financial condition. But, such as in this case, Boeing transfers orders out of ASC 606 and back into its backlog if circumstances change.
Boeing delivered 22 jets in February. Those included 18 737 Max, among them two to lessor Air Lease, one to Alaska Airlines, one to American Airlines, one Boeing Business Jet, two to Copa, one to lessor SMBC Aviation Capital, five to Southwest Airlines, one to TUI, three to United Airlines and one to WestJet.
Boeing also delivered one 737NG-based P-8 military surveillance aircraft, one KC-46 tanker, one 767F to UPS and one 777-300ER to Aeroflot in February.
The company has not delivered any 787s since October 2020 owing to a skin-flatness issue at the aft of the jets' fuselage, where fuselage sections join, Boeing says.
The company, which identified the issue last August, says skin flatness did not meet specifications that include tolerances equivalent to the width of a human hair. Boeing is now performing inspections.
Boeing says engineering analysis shows that the issue does not affect flight safety.
Boeing had previously, in 2019, identified a separate issue, related to fuselage shimming, that affected the same area of 787 aft fuselages. That issue involved a batch of aircraft produced in 2019 and did not affect flight safety, Boeing says. The company addressed the issue in its production system, it adds.
Last year, customers removed from service eight 787s that had both quality issues. Among those jets, Boeing has completed repairs to aircraft returning to service, it says.
Boeing now has 84 completed, undelivered 787s in its inventory, according to Cirium fleets data.
Despite the 787 pause, Boeing anticipates delivering "the majority of [787s] in inventory by the end of this year", it says.
Boeing continues to "monitor inspection requirements" and other market factors, such as the sector's recovery.
The airframer will continue working with the Federal Aviation Administration to determine any required actions related to the in-service 787 fleet, Boeing adds.
February's changes left Boeing's backlog at 4,041 aircraft at the end of February, up from 4,016 at the end of the prior month. The backlog comprises: 3,236 737s, 13 747s, 99 767s, 250 777s and 443 787s.
Story corrected on 9 March to note that ongoing 787 inspections relate to a skin-flatness issue, not an already addressed fuselage shim issue. Also updated to include more details about those issues.