Following the recent shuttering of Boeing-backed supersonic aircraft developer Aerion, Boeing's chief executive says his company lost confidence in the value of its investment in supersonic start-ups.
CEO David Calhoun, however, insists Boeing is committed to continuing support of another start-up, air taxi developer Wisk Aero.
"We evaluated it year in and year out, and we got to a decision where… we didn't believe in it quite as much as we thought we could," Calhoun says on 3 June, responding to a question about Aerion.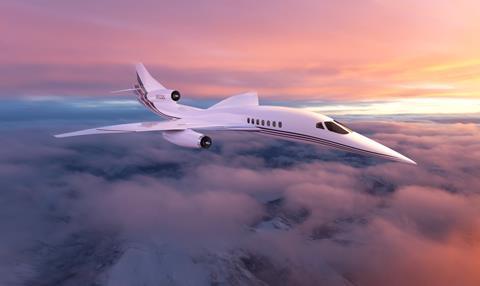 Aerion, which had been developing a supersonic business jet called AS2, abruptly confirmed on 21 May that was closing its doors. The company cited "the current financial environment".
In 2019, Aerion secured an undisclosed investment from Boeing, which agreed to provide the start-up with flight-testing, financial, engineering and industrial support.
"In a different day, with a different lens, we may have done a little too much of it," Calhoun says of Boeing's investment in start-ups. "We don't have to compete on every form of air travel."
He made his comments during an AllianceBernstein investor conference on the same day the supersonic sector received a bump from United Airlines, which committed to purchase 15 supersonic airliners from Boom Supersonic.
Calhoun says Boeing has been more-closely evaluating the potential long-term benefits of its start-up investments. The company looked at whether such endeavours will ever "be big enough and meaningful enough to Boeing". It also studied potential return on capital and whether partnerships "bring any technology to our existing core business".
Boeing needed its supersonic partnership to "stand on its own… We couldn't get there with respect to the market, with respect to the immediate investment".
Calhoun insists Boeing's commitment to California-based Wisk remains solid.
"We did make a decision to stick with Wisk," he says. "It's not going to displace anything in the… portfolio today."
Wisk is developing Cora, a 12-prop, two-passenger electric vertical take-off and landing aircraft (eVTOL).