Boeing is addressing supply chain issues at its 737 production site in Renton, and executives say the 737 Max is enjoying a strong revival following the 20-month grounding that ended in November 2020.
The company is also downplaying competitive pressure posed by Airbus's A321XLR, saying that aircraft occupies a niche and that the 737 Max has broader appeal.
Boeing's Renton assembly site hummed with activity this week, with two of three production lines up and running. Boeing has yet to say when the third line might come on line.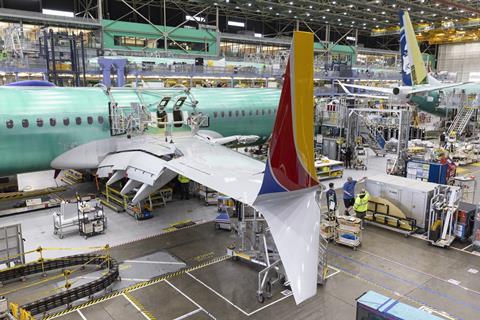 The company had aimed to ramp production to 31 737s monthly early this year, but that goal has remained out of reach, with executives citing shortages of parts such as wiring connectors. Boeing has also reportedly struggled with labour shortages.
Speaking to reporters on 15 June, Boeing director of 737 programme business operations Dennis Eng declines to specify Boeing's current production rate but says the company is closing in on the 31-per-month goal.
He also says Boeing is ironing out supply troubles.
"Our components are arriving when we need them to arrive," Eng says. "We try to mitigate any disruptions or shortages on an everyday basis. But, I'd say right now, we have the parts that we need."
Separately, Boeing vice-president of commercial aircraft marketing Darren Hulst tells reporters that Boeing's focus is not to match Airbus at the top-end of the narrowbody market.
He was referring to Boeing's competition position against Airbus's in-development 4,700nm (8,704km)-range A321XLR. That aircraft, which Airbus now expects will enter service in 2024, made its first flight on 15 June.
Boeing's Max 10 – the aircraft that conceivably competes against the A321XLR – has 3,300nm of range and is yet un-certificated. Boeing hopes to deliver the first Max 10 in 2023.
Hulst calls the A321XLR a "range machine", but says it is suited only for a small segment of a much broader single-aisle aircraft segment. Airlines pick the Airbus jet, Hulst adds, "for a specific niche of air markets that they can't serve with a standard A321".
Airbus has reported strong demand for A321XLRs, with customers like American Airlines, United Airlines and JetBlue Airways lining up with orders.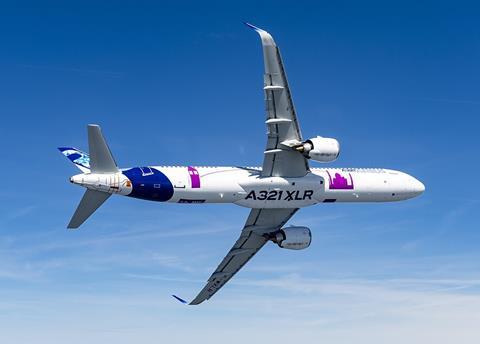 On 15 June, Airbus said it held "more than 500" A321XLR orders from more than 20 customers as of the end of May. Those orders equate to about 12% of Airbus's total backlog of 4,211 A321neos.
"So, you're talking about a fraction of the market," Hulst says.
"It's not our goal, necessarily, to match Airbus plane-for-plane at the top of the market, especially because, I think, we have a more-compelling value proposition with the" Max 8 and 9, Hulst adds.
He argues that the Max 8 and 9 excel in the "heart" of the narrowbody market – specifically, the segment including jets with 180 to 200 seats.
"That's where our aircraft have more seats, lower cost-per-seat and, ultimately, more range flexibility," Hulst says. "The 737 Max family represents the most versatile, but also the most complete, single-aisle family for the needs of the market."
Aerospace analysts generally describe Max 8s and 9s as at least equals to Airbus's A320neo. But, they say Boeing lost valuable market share because it lacks an aircraft that competes favourably against A321neos.
Hulst says the Max continues gaining momentum. More than 630 of the jets are now in service with 45 airlines, and the type has logged some 600,000 flights and more than 1.5 million flight hours, he says.
Story updated on 17 June to note that on 15 May Airbus said it held more than 500 A321XLR orders.