Boeing is hiking production of two aircraft types, increasing 737 output to a 38-monthly rate and aiming by year-end to have five 787s moving off its production line every month.
The manufacturer has been producing 31 737s and four 787s monthly.
Boeing disclosed the rate changes on 26 July, the day it also reported its second-quarter financial results. The company swung to a $149 million loss in the quarter, which compares to a $160 million profit in the same period last year.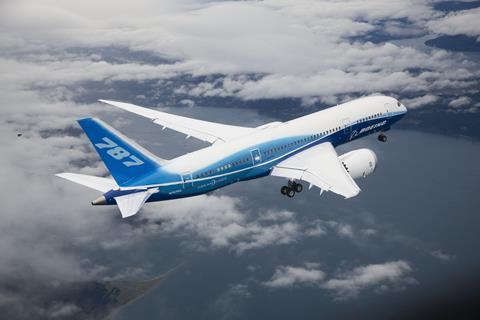 "The 737 programme is transitioning production to 38 per month and plans to reach 50 per month in the 2025-2026 timeframe," Boeing says. "The programme still expects to deliver 400-450 airplanes this year."
Boeing had been producing about 52 737s monthly prior to March 2019, when regulators globally grounded the 737 Max following a second crash. The company then slashed production, which remained depressed in 2020 when the Covid-19 pandemic decimated air-travel demand.
Boeing has since struggled to boost 737 production amid widespread supply and labour shortages.
As for the 787, Boeing had been producing 14 of those jets before cutting output to just three monthly during the pandemic. During the downturn it also stopped making 787s in Everett, shifting all 787 production to its lower-cost site in North Charleston, South Carolina.
Earlier this year, Boeing said it was moving from producing three to four 787s monthly.
Boeing now says it "plans to ramp" 787 output to five aircraft monthly in late 2023. It is also sticking with a plan to produce 10 of the widebodies monthly in 2025 or 2026, and of delivering 70-80 of the jets this year.
In the second quarter, Boeing generated $19.8 billion in revenue, up 18% year-on-year.
Its commercial aircraft division lost $383 million during the period, compared to a $219 million loss in the prior-year period, though the segment's revenue jumped 41% year-on-year to $8.8 billion. Boeing attributes its commercial aircraft business loss to "abnormal costs" and research and development expenses.
The company delivered 136 commercial aircraft in the second quarter, up from 121 in the same period of 2021.
Boeing's Defense, Space & Security business also swung to a heavy loss of $527 million in the second quarter, reversing a $71 million profit in the second-quarter of 2022. The company blames fixed-price military development programmes for the showing.
Boeing Global Services was a bright spot, turning a $856 million second-quarter profit, up 18% year-on-year.