Roughly 165 of the 737 Max 8s in Boeing's inventory of undelivered aircraft will require detailed inspections and rework to address a recently revealed issue with the jets' aft-pressure bulkhead.
That is according to Boeing chief financial officer Brian West, who on 7 September revealed details about how many 737 Max are affected by the bulkhead issue.
On the same day, the chief executive of Spirit AeroSystems, which supplies Boeing with 737 Max fuselages, including the bulkheads, disclosed more information about the defect.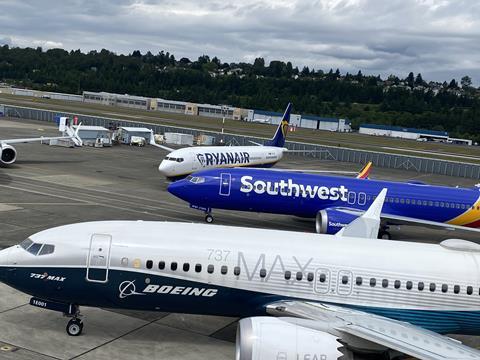 "It will impact about 75% of the 220 airplanes that were in inventory as of the end of the second quarter," West says during an investor conference hosted by financial firm Jefferies. That equates to 165 aircraft. "The item… in the aft fuselage was a step back from" Boeing's goal of achieving a more stable production system.
Boeing had previously disclosed little about how many 737 Max have the aft-pressure bulkhead issue, which the company first disclosed in August. The problem involves "fastener holes that did not conform to our specifications", Boeing said. Only 737 Max 8s – not Max 9s – are impacted.
Still unclear is how many in-service aircraft might have the defect and require fixes. Boeing insists the problem does not degrade flight safety.
During the same conference, Spirit CEO Tom Gentile says the pressure-bulkhead defect resulted from an "automated drilling process, which if not done perfectly could create on oblong hole". The affected structure has about 1,000 holes, of which about 500 are drilled using the automated process and could therefore "be suspect", he says. Spirit has 39 fuselages that still require inspections and possible repairs.
Addressing the issue requires completing x-ray inspections to identify oblong holes. "If there is an oblong hole… we oversize it, drill it out a little bit… and put in a larger fastener," Gentile adds.
Boeing, meanwhile, faces the bigger task of inspecting and repairing some 165 jets that are completed but not yet delivered. The company accumulated many of those during the 737 Max's grounding.
West calls the rework "more complicated and involved" than the work needed to address another 737 Max 8 issue that arose earlier this year. That problem involved defective horizontal stabiliser clips.
Boeing's deliveries have already slowed as a result of the bulkhead problem. West says Boeing delivered just 22 737s last month, down from 33 in July. The company has not yet released its full August delivery figures; those will likely come out next week.
West says fewer-than-anticipated deliveries will likely leave Boeing Commercial Airplanes with a loss in the third quarter. The division lost $998 million in the first half of 2023.
Still, West anticipates Boeing will meet its goal of delivering 400-450 737s this year. But he thinks the figure will likely be "at the low end of that range".
"In the near term, [the bulkhead issue] will impact deliveries, but we have no intention of changing the master schedule," West says.
The company also still plans to make good on its intention to bring 737 Max production to a rate of 50 jets monthly by 2025 or 2026.