Boeing's chief executive views a freighter version of the 777X as a logical next aircraft programme for the Chicago-based airframer, noting Boeing will need a cargo jet that complies with looming aircraft emission standards.
"We need to develop a new ICAO-compliant freighter," CEO David Calhoun says on 28 July. "I circle the 777X as the logical place for that, and the smart place to do that."
Calhoun stresses that he is not suggesting Boeing has already launched such an aircraft or that "we have one planned".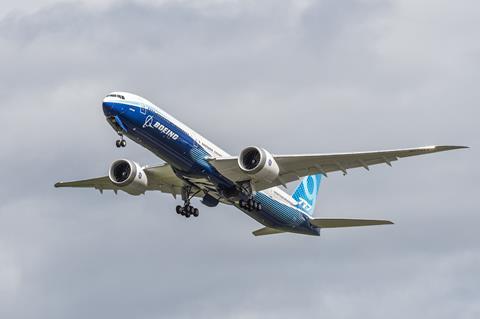 But the company has long made known its intention to develop eventually a freighter 777X variant; it has been urged to do so by the chief executive of Qatar Airways.
"I am confident that might be the next of our programmes", Calhoun adds of a 777X-F. He made the comments during Boeing's second-quarter earnings call.
ICAO adopted emission limits for civil aircraft in 2016, and in January the US Environmental Protection Agency finalised its own rule that aligned with ICAO's standards.
The EPA's efficiency standards apply to new aircraft types submitted for certification to the Federal Aviation Administration after 10 January 2021, and to in-production types starting in 2028.
EPA documents say types like 767Fs are "non-compliant".
Boeing had asked the EPA to delay the rule's applicability to 767Fs. The company said "unexpected economic factors" such as those caused by the pandemic warranted that it be granted more time "to upgrade or replace the 767F".
The EPA declined, noting that US regulations already allow for exemptions in cases of "unforeseen circumstances".
Boeing's two purpose-built freighters include the 767F and 777F. Both have proved commercial successes, with Boeing continuing to land new sales even for the decades-old 767.
Boeing holds outstanding orders for 53 767Fs and 46 777Fs.
The 767 currently has no successor. But Boeing is well into certification of the re-winged, re-engined 777X, initially a passenger aircraft. The company anticipates delivering the first 777X variant – the 777-9 – in late 2023.
Boeing has said it will continue producing first-generation 777Fs even as it produces 777-9s.
Calhoun suggests Boeing transition to its next freighter could be aided by emission-related regulatory waivers.
"There are exemptions that exist within the ICAO language that have to be accommodated by the US government," Calhoun says. Those exemptions could potentially aid Boeing's "transition strategy to that new kind of opportunity".