Airbus was unsurprised by recent comments from the head of arch-rival Boeing that it had no immediate plans to launch a new aircraft, according to the European airframer's sales chief.
During an investor conference in early November, Boeing chief executive David Calhoun dismissed talk of any near-term development.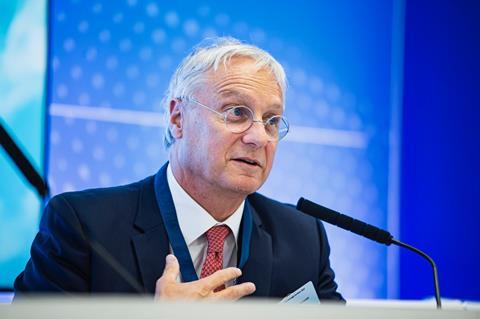 "And then there'll be a moment in time where we'll pull the rabbit out of the hat and introduce some new airplanes sometime in the middle of next decade," he added.
But speaking to journalists at an event in Munich on 30 November, Christian Scherer, Airbus chief commercial officer, said Calhoun's comments were expected.
"David Calhoun's statement was not surprising coming from the chief executive of a company that has accumulated a huge amount of debt," he says.
In addition, with the combined backlog for the A320neo and 737 Max families standing at around 10,000 aircraft, Boeing would not want to tell customers that "in the near term they would [make] obsolete the aircraft that customers have contracted".
Calhoun's position was a "very logical thing for Boeing to say at the moment", he adds.
Airbus head of strategy Antoine Bouvier says its rival's foot-dragging will not affect its direction of travel. "We are investing to prepare the technology for the next generation – whatever it will be," he says.
In the near term, Scherer sees positive momentum in the market, with most regions recovered to around 80% of pre-covid levels. The exception is China, he says, where traffic levels remained at around one-third of pre-pandemic highs.
To date, Airbus has seen no impact from the "dark clouds on the horizon" such as higher fuel costs, inflation and a tight labour market, Scherer adds.