Boeing has started the process of delivering 737s that have been fixed to address a recently disclosed manufacturing quality problem involving fuselage clips.
The company stopped delivering some 737 Max 8s and 737NG-based P-8 military surveillance jets earlier this year due to the problem, which reportedly involved defective clips that attach to vertical stabilisers.
Because the issue did not affect all 737s, Boeing never outright halted 737 deliveries. But the hiccup slowed the rate at which Boeing has been handing the narrowbodies to customers.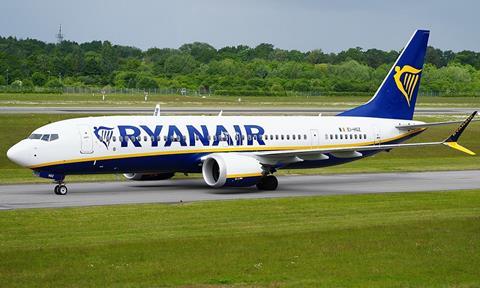 Boeing and Spirit AeroSystems, which supplied the defective clips, have been repairing affected jets, they have said.
Now, some of those aircraft are being shipped, a positive development for the 737 Max programme.
"We have begun to deliver reworked airplanes out of inventory," Boeing chief financial officer Brian West told investors on 25 May.
That milestone shows that Boeing's recovery from the problem is "on track", he adds, noting Boeing still expects to meet its previously stated goal of delivering 400 to 450 of the narrowbodies this year.
"That range will be dictated by the performance of this recovery on the [737] fuselage" problem, West warns. "So far, so good."
Boeing delivered just 18 737s in April but aims to soon hike the rate about 30 monthly, and then to about 40 monthly by year-end.
West does not say how many reworked 737s Boeing has now delivered. The company did not immediately provide more information.
Boeing disclosed the problem on 13 April, saying it halted some 737 deliveries due to problems with the clips. Spirit confirmed it identified the issue and notified Boeing. The 737 Max 9 variant was not impacted, nor were all Max 8s nor P-8s.
The problem affects both in-production 737s and an undisclosed number of already produced, in-service jets, though Boeing insists affected aircraft are safe to fly.
"It's a gnarly defect. It's in that aft section of our airplane and very difficult to visibly assess," Boeing chief executive David Calhoun said on 26 April, citing "cracks".
"Without witnessing first hand that [manufacturing] process in action, you're not likely to find it from that point forward… There was a ceiling that was applied on top of the fitting that made it impossible to notice any cracks."