Boeing's chief executive says his company is close to resuming 787 deliveries, though he again declines to specify a timeline.
"We are on the verge of returning to the [787] delivery process," CEO David Calhoun says on 27 July. "We've been working closely with our customers and the regulator on those final steps."
Calhoun made his comments during Boeing's second-quarter earnings call.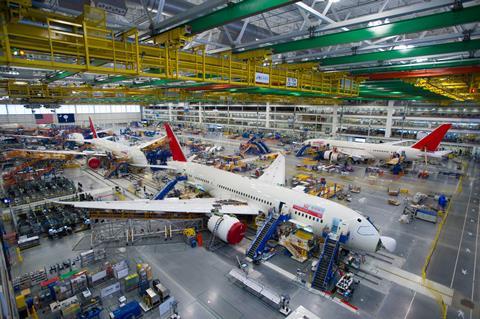 The airframer has not delivered 787s for most of the last 21 months due to manufacturing quality issues largely involving gaps between fuselage sections being larger than specified.
The issue spurred a broad review by the US Federal Aviation Administration, which has heightened its regulatory oversight since taking criticism for its certification of the 737 Max.
The airframer needs the FAA to approve 787 rework before resuming deliveries.
Boeing executives have sidestepped any mention of when the process might be complete – a tactic seen as reflecting lessons Boeing learned after former FAA administrator Steve Dickson chastised former Boeing CEO Dennis Muilenburg for putting a timeline on the 737 Max's return.
During the 27 July earnings call, analysts pressed Calhoun about why he thinks 787 deliveries are close to resuming.
"The number of documents, the number of analyses, the number of sign-offs has progressed at a fairly rapid rate… toward the close," Calhoun responds.
He views the "documentation phase" – which accounts for a large chunk of the process – "as closing relatively soon".
Boeing has also been completing rework to some 787s, so those jets are ready to go once the FAA issues its blessing, Calhoun says. "Customers are climbing around the airplanes and making certain that they are also ready for delivery and acceptance."
"We just feel like we are on the verge, and we are reasonably confident in that," Calhoun adds. "We can't give you a date."
Last week, Boeing 787 customer American Airlines hinted at a possible delivery timeline, saying it expects Boeing to resume deliveries of the type "this quarter".
The 787 delivery halt came as Boeing stopped making 787s at what had been its prime manufacturing facility in Everett, leaving its North Charleston, South Carolina facility as its sole 787 production site.
"In the end, we'll have a predictable and high-quality line," Calhoun says of the North Charleston facility.