Boeing in recent weeks temporarily paused manufacturing of wings for its 737 family as the airframer attempts to address parts and labour shortages affecting narrowbody production.
Revealing the stoppage in a 3 August email to staff, a manager for Boeing's 737 wing manufacturing operations said the decision was not taken lightly.
"We have made the decision to have a production down day both Wednesday & Thursday of this week," the email says. "This was not an easy decision and one that I would have preferred not to exercise."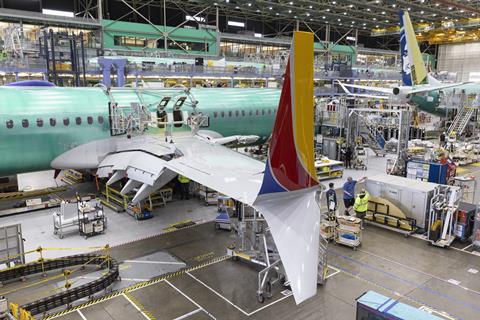 A source familiar with the matter says wing manufacturing slowdowns have also occurred on other days in recent weeks, sometimes leaving production staff with hours of time for other tasks, such as cleaning work areas.
The slowdowns come as Boeing works to stabilise 737 production at a rate of 31 jets monthly ahead of future output rises.
"We actively manage the flow of production as part of the normal course of business," Boeing tells FlightGlobal. "Production activities in the 737 factory have continued and are ongoing."
Boeing adds that it has resumed wing production "at the current rate" since the email was sent.
"Our production system involves multiple component product lines that we coordinate to meet overall production needs," Boeing adds. "This is an example of how we manage our internal inventory."
Supply-chain problems are partly to blame for the wing-production slowdown, according to the email. It says "supplier issues" are impacting installation of wing systems.
"The team is currently installing many parts after the wings have completed their entire flow in [wing systems installation], placing substantial stress for on-time delivery to Final Assembly if we were delivering per schedule," the email says.
Parts in short supply include wiring connectors, Boeing executives said earlier this year.
In July, Boeing said it had brought 737 production to 31 aircraft monthly, achieving a goal. But, executives warned, their challenge will be maintaining that rate.
"The programme reached a rate of 31 airplanes per month, though rollouts from the factory vary month-to-month based on factors such as timing of supply-chain deliveries," Boeing says. "Our team continues to focus on driving stability across our operations."
The 3 August email says the 737 wing manufacturing team "is still staffed for" a production rate of 31.5 737s monthly, with some workers on "loan" from the 747, 767 and 777 programmes.
However, the 737 final assembly lines are still bringing on more employees as Boeing seeks to raise single-aisle production to meet industry demand.
"The Final Assembly Team is working aggressively to staff up all three lines, of which two are already fully staffed and the third will be soon," it says.
"Once Final Assembly regains their production health, they will be able to produce at current rate of 31.5, and exceed that throughput with relative ease."
The email says Boeing has "a large quantity of wings that are being stored outside". But, once fully staffed, "the reserves that are outside could quickly be consumed by final assembly".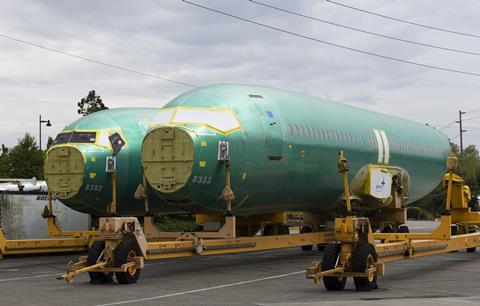 The source familiar with Boeing's production also says the company has been working to address wing manufacturing quality issues, some involving miss-drilled holes that require rework.
The 3 August email says Boeing seeks to improve quality and prevent defects – noting a 2022 target to reduce defects by 50% – without detailing specific issues.
The memo also stresses the need to focus on quality, citing "problem-solving tools… to address chronic or high-impact defects".
"We need to instill safety & quality into everything we do, and we need to restore [the] operational stability and health of our business," it says.
Boeing tells FlightGlobal "the 737 wing line is a highly automated system producing a highly repeatable design with less production variability".
The US airframer is not alone in facing supply-chain challenges; other major aerospace companies are also struggling with too few components, as are suppliers themselves.
The industry has been working to ramp up output following the Covid-19 downturn, but has been hampered by factors including lack of sufficient workers and surging costs. In July, Airbus delayed its A320neo-family production rate ramp, citing supply-chain issues.