Boeing declines to comment about a recent report that the company has nearly finalised a deal to transfer the lease its Dreamlifter cargo facility at Paine Field in Everett to air cargo giant FedEx.
The Seattle Times reported the news on 19 April, citing a document "that outlines terms of the discussion".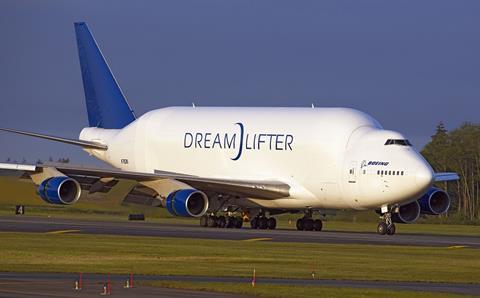 Boeing has used the "Dreamlifter Operations Center" in Everett to accommodate shipment of 767 and 787 components using its fleet of 747-based Dreamlifter cargo jets.
But, earlier this year, Boeing ceased producing 787s in Everett, consolidating all that work at its 787 production site in North Charleston, South Carolina.
Reached by FlightGlobal, Boeing and FedEx decline to comment specifically about the Paine Field site.
"Boeing is committed to the Puget Sound region," the airframer tells FlightGlobal. "We have a larger workforce and operational footprint here than anywhere else in the world, and we have spent billions of dollars investing in long-term infrastructure, development programmes and our teams."
Boeing adds that Dreamlifters continue to fly into Paine three times monthly from Wichita to deliver 767 nose sections produced by Spirit AeroSystems.
"FedEx continuously evaluates opportunities that can enhance our ability to serve our customers. Per company policy, we do not comment on specifics of projects until all aspects have been finalised," the shipping company says.
The Dreamlifter Operations Center was built specifically for Boeing's Dreamlifter shipments. It is owned by Snohomish County and leased to Boeing, according 2012 Snohomish county documents.