Boeing's executives are describing Ryanair's new 737 Max order as a turning point for the troubled Max programme and indicative of a faster-than-expected airline sector recovery.
They view Ryanair's eagerness for new jets as a shot of momentum as Boeing seeks to stem cancellations and begin delivering hundreds of new Max.
"Our timeline with respect to recovery is a little more aggressive today than it was" earlier this year, Boeing chief executive David Calhoun says on 3 December.
Boeing had predicted that the sector would not recover to 2019 for three to five years.
For months Boeing's backlog has dwindled as carriers cancelled orders. But Calhoun predicts the order backlog will start increasing again, with "more going in than coming out".
He spoke during a joint Boeing-Ryanair press conference at which the companies announced Ryanair ordered 75 more 737 Max 8-200s. That jet, a sub-variant of the 189-seat 737 Max 8, can carry at least 200 seats thanks to an extra exit door, according to Boeing.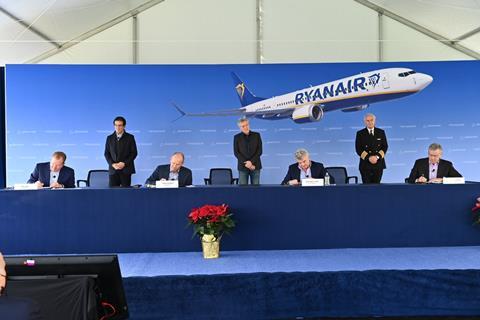 Ryanair Group chief executive Michael O'Leary, on hand at the press event, had in recent weeks predicted that short-haul travel could recover to 75-80% of 2019 levels by next summer.
O'Leary reiterated that sentiment on 3 December.
"There is going to be a very strong recovery," he said. "We need more aircraft… if we are going to lead the recovery in Europe."
Ryanair's order for 75 Max comes atop existing orders from 135 of the Boeing narrowbody, bringing the discount UK company's total Max order to 210 jets.
Ryanair does not yet have any Max in its fleet but expects deliveries will begin in "early spring", with 25-30 of the jets flying by summer 2021.
Boeing Commercial Airplanes chief executive Stan Deal says Boeing has already built 27 of Ryanair's Max – jets among the roughly 450 Max that Boeing built, but did not deliver, during the 20-month grounding.
Boeing has another 13 of Ryanair's Max in its manufacturing "flow", Deal adds.
The Chicago company has said it hopes, within about one year, to deliver about half of those 450 inventoried aircraft.
But analysts have questioned how quickly Boeing will actually be able to offload the jets, noting the pandemic and resulting aerospace industry collapse had eroded demand for new aircraft.
Deal says Ryanair's order gives the airframer "momentum going into" 2021, adding that Boeing will still make some "adjustments" to its delivery schedules.
The Federal Aviation Administration lifted the grounding on 18 November, and Europe's EASA is expected to follow shortly.