Boeing arrives at the Dubai air show riding a wave of recent sales for its widebody jets while aiming to land new 737 Max customers – with one particular sales opportunity at the top of its mind.
Boeing Commercial Airplanes chief executive Stan Deal says demand for widebody jets is on the upswing as airlines continue rebuilding from the Covid-19 downturn, and he has another message for the industry: the airframer's recovery remains on track despite a recent quality setback.
"It should be an all-around strong showing for the Boeing Company," Deal says. "We are going to have a great widebody presence at the show… I am very confident you will see a few orders come out of the show as well."
Boeing's 777-9 will be performing in the flying display, highlighting the widebody's efficiency and "the quietness of the product in and around the airport", says Deal.
Other Boeing jets on display at the show will include an Emirates Airline 777-300ER, four 787s (one each from Etihad Airways, Qatar Airways and Saudia, and one Boeing-owned 787 in the colours of Riyadh Air) and a Flydubai 737 Max.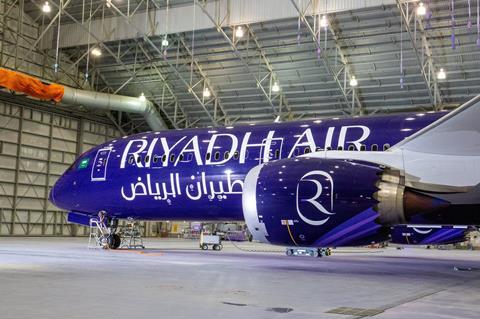 Though international air travel has been slower to recover from the pandemic, many airlines are now focused on acquiring more efficient widebody jets, leading to notable recent sales for both Airbus and Boeing.
In 2022 and 2023 through September, Boeing landed net orders for 74 777s and 339 787s, according to its data. United Airlines alone accounted for 140 of the 787 orders. Saudia and Riyadh Air also each ordered 39 787s, Air India 20 787s and 10 777X, and Qatar Airways became launch customer for Boeing's 777-8 Freighter.
"I expect you'll continue to see an extension of that," Deal says, while declining to specify possible customers. "The widebody demand continues to be quite strong as people recovered from the impacts of Covid. We've seen that resurgence. It started on the narrowbodies and the flurry of activity on the widebodies has continued."
Boeing expects Middle Eastern carriers will operate 3,360 commercial aircraft in 2042, more than double the 1,395 they do today, according to the company's 2023 Commercial Market Outlook.
Such growth will require airlines in the region to acquire an estimated 3,025 new commercial aircraft between now and 2042, including 70 freighters (2% of the total), 35 regional jets (1%), 1,570 narrowbody (52%) and 1,350 widebody jets (45%).
"Many airlines in the region provide service between major population centres in Asia, Africa and Europe via growing hubs that offer efficient connectivity," Boeing says. "As a result, a higher proportion of widebody aircraft are needed to carry larger passenger volumes."
Seeing such demand, Boeing is working to boost 787 production from four to five jets monthly this year and to 10 monthly in 2025 or 2026.
The 787 programme in recent years has been hamstrung by several quality problems – issues Deal insists his team is fully addressing. Boeing halted 787 deliveries for most of the time between October 2020 and August 2022 because gaps between the carbonfibre fuselage sections did not meet specifications. It spent much of those 22 months plodding through a time-consuming investigation of the problem and development of a fix that the Federal Aviation Administration (FAA) ultimately approved.
Deal says Boeing fully understands that 787 problem and is now completing rework on the undelivered examples: at the end of September it had 75 of the jets awaiting rectification.
"There's no more variability relative to investigating further areas of the airplane," says Deal, adding that Boeing learned from the experience. "It has honed our mechanics' skills, having to assemble and disassemble, [and] taught us something relative to the design-production-system marry-up for future designs. So, two valuable residual benefits that we'll take with us."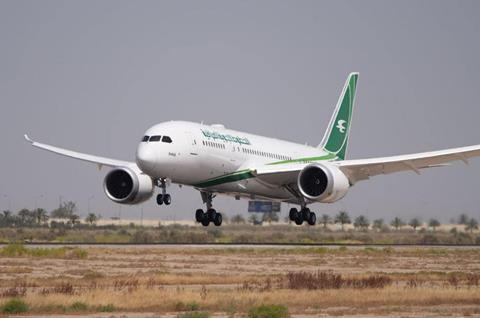 Boeing is also eager for more customers to sign for its in-development 777X, a programme the company launched at the Dubai air show in 2013. It has delayed the 777-9's service entry several times amid heightened FAA scrutiny, prompting a sharp rebuke from some buyers, notably Emirates chief Tim Clark.
Deal says Boeing is tracking to have the 777-9 certificated in mid-2025. The manufacturer is also developing the 777-8 Freighter, with a goal of delivering that model starting in 2027, and still has the 777-8 passenger variant in its plans.
"We're at 1,100 flights and about 3,200 flight hours on the product, which is more than any other airplane we've ever flown in the test regimen," Deal says. "We are into type inspection authorisation approval, [which] requires what are called design assurance reviews to be complete."
"Then, we are off to… testing for score, which means the regulators' pilots are flying," Deal says.
Boeing and engine maker GE Aerospace are working to ensure the 777X and its massive 110,000lb-thrust (489kN)-class GE9X turbofans are sufficiently durable to withstand the Middle East's dusty and sandy conditions, which have caused trouble in other powerplants, Deal says. GE Aerospace has completed GE9X tests that included 1,600 run cycles while injecting dust into the engines.
Boeing will also complete its own durability and operational checks in the Middle East, including a "service-ready validation in the region", says Deal, noting that Boeing completed a similar programme in Japan for the 787 prior to delivering the first of that type in 2011 to All Nippon Airways (ANA).
"It's actually simulating an airline operation", Deal says. "We will do it in conjunction with an operator. We tend to run it with their maintenance crews and their pilots… We really attempt to accomplish a day in the life of an airline."
Boeing holds 318 firm 777X orders. Top customers include ANA (20), British Airways (18), Cathay Pacific Airways (21), Etihad (25), Emirates (115), Lufthansa (27), Qatar (74) and Singapore Airlines (31).
Deal thinks interest will increase soon. "The bulk of the ordering spree… will really start to unleash as we get closer to [certification], and after," he says, adding that Boeing has demonstrated that the aircraft meets performance and fuel-burn targets. "People are waiting to see the final product."
Which airline will be first to operate the 777-9 remains unclear, though Boeing has called both Emirates and Lufthansa launch customers. Deal says Boeing has a "lead customer" and "several [airlines] in the very front end of the launch of the product line", but declines to name them.
Boeing also arrives at Dubai hoping to secure more 737 Max customers, having landed 478 net new orders for the type this year, including a whopping 190-strong deal from Air India.
Another big opportunity is up for grabs: an expected order by Riyadh Air for narrowbody jets to supplement its 787s. Saudi Arabia's government in March revealed Riyadh Air as its new national airline, and with big plans, saying the carrier will eventually connect the country to more than 100 destinations.
"There's a narrowbody campaign going on," says Deal, again without naming customers. "We think we have a preferred offering, but our competition's fierce."
Deal thinks 737s can do for other Middle East airlines what they did for Flydubai, which expanded rapidly with the Boeing narrowbodies.
"I think it's a story that plays over again very well in the Kingdom of Saudi Arabia," he says. "It's maybe even a little stronger thesis than the opportunity Flydubai has."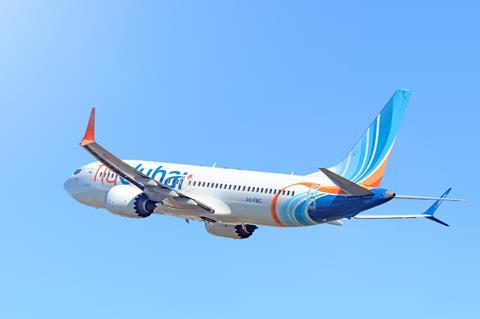 Deal insists Boeing is addressing 737 Max issues, the most-recent involving defective drill holes in aft-pressure bulkheads supplied by Wichita's Spirit AeroSystems. That issue primarily affects Max 7s, Max 8s and Max 8-200s and has required Boeing to inspect hundreds of holes on each of more than 150 737s in its inventory, leading to slower 737 production and deliveries. On 25 October, Boeing said it now anticipates delivering 375-400 737s this year, down from its previous 400-450 estimate.
That slowdown aside, Boeing says it is broadly working to accelerate the entire 737 production system from 31 aircraft monthly to 38 monthly before year-end and to 50 monthly by 2025 or 2026.
Boeing staff are working closely with suppliers – including second- and third-tier companies – to ensure they have enough workers and material to meet planned rate bumps. "We've opened up our inventory of raw material to our suppliers to make up where there may have been capacity shortfalls," Deal says.
Few suppliers are as critical to the 737 programme as Spirit, which struggled financially and operationally in recent years. But Deal thinks new leadership and a revised supply agreement have put Spirit on an upward path.
The company recently replaced longtime chief Tom Gentile with interim CEO Patrick Shanahan, who previously worked for three decades at Boeing, including as senior vice-president of supply chain and operations, senior vice-president of commercial airplane programmes and vice-president of the 787 programme.
Boeing also recently agreed to provide Spirit with $100 million to support 737 and 787 rate increases, and the companies revised payment terms to provide Spirit more near-term revenue.
"I… characterise that as an investment in stability, and [it] allows Pat to really focus on the main thing, which is making Spirit AeroSystems the best they can be, in terms of a predictable, reliable supplier," says Deal. "[Pat is] operationally in the midst of everything."
Others also see Shanahan as qualified to right Spirit's ship. "The good news is, Pat Shanahan is the perfect man for the job," says Richard Aboulafia, aerospace analyst with consultancy AeroDynamic Advisory. "If he can't do it, this is an impossible situation."
Aboulafia says Shanahan understands aerospace manufacturing, adding, "Most of all, he has a lot of credibility at Boeing".