Boeing will continue its "ecoDemonstrator" programme in 2021, using a 737 Max 9 to evaluate new cabin sidewalls, 3D-printed cabin air vents, noise-reducing engine nacelles and a new fire-fighting chemical.
The company will also use the jet – which is earmarked for delivery to Alaska Airlines in 2022 – to evaluate flight-control technology, atmosphere-measuring equipment and the use of biofuel, Boeing says on 3 June.
Through its ecoDemonstrator programme – now in its 10th year – Boeing evaluates technologies that could make their way onto in-service jets.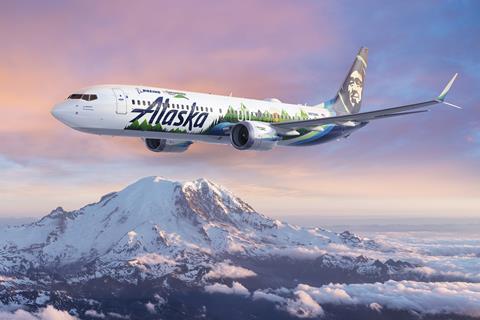 The company expects to begin this year's ecoDemonstrator flights in about four weeks and to wrap up testing in December. It will fly the 737 Max 9 from Seattle.
The 2021 programme will see Boeing evaluate the noise-reducing effects of changes to engine nacelles, particularly the use of "advanced acoustic liners".
The company will perform the acoustic tests over Moses Lake, Washington, where it will collect data using an "acoustic array" system, Boeing says.
"These refinements will also help address the different noise footprint of next-generation ultra-high-bypass engines and compact nacelles."
The Chicago airframer will also use the Max 9 to study, in partnership with aerospace company Meggitt, the use of trifluoroiodomethane (CF3I) as an onboard firefighting chemical. CF3I could potentially replace the currently used firefighting chemical Halon 1301, which has "ozone-depleting properties, says ecoDemonstrator programme technical leader Doug Christensen.
The CF3I tests will occur on the ground, not in the air, and let Boeing collect "certification data for future airplanes", he says.
In collaboration with the National Oceanic and Atmospheric Administration, Boeing will use the Max 9 to evaluate technologies that measure atmospheric greenhouse gases. Boeing's role will primarily involve evaluating how to integrate sensors "into a commercial airplane in the most effective way", Christensen says.
Equipping large fleets of commercial jets with such measuring systems could help scientists collect data needed to advance climate models and forecasting, Boeing notes.
The company will also use the 2021 ecoDemonstrator to study the use of cabin sidewalls made from "waste carbon fibre" left over from production of 777X wings, Boeing says. It will perform acoustic tests to ensure the components meet noise and other requirements.
Additionally, Boeing will outfit the Max 9 with cabin air vent nozzles designed to prevent "airborne particles from travelling throughout the cabin", says ecoDemonstrator programme director and chief engineer Rae Lutters.
Produced using additive manufacturing, better known as 3D printing, the vents will "blow the air down into the individual's lap", creating a "curtain of air between rows", she says.
Boeing says its existing onboard air systems already circulate and clean cabin air every 2-3min.
The 2021 programme also includes collaboration with the University of Washington to develop models related to "next-generation flight control" software and hardware, Boeing adds.
The 737 Max 9 dedicated to the 2021 ecoDemonstrator programme has already been manufactured by Boeing.
The 2021 flights mark the 10th year of Boeing's ecoDemonstrator programme. Through the effort, Boeing has evaluated technologies using aircraft including a 737-800, 747-8, 757, 777, 787 and Embraer 170, it says.