While Boeing will deliver fewer than expected 737s this year due to a quality problem, the company is broadly working to speed up the pace of its entire 737 production system, aiming to hit a 38-monthly rate this year.
At the same time, the US manufacturer is focused intently on ridding itself of its hundreds-strong inventory of undelivered jets, while predicting prime contractor Spirit AeroSystems is on the upswing under new chief executive Patrick Shanahan, a former Boeing executive.
"We knew 2023 would be a bumpy ride, but overall… We are making progress in our recovery," Boeing CEO David Calhoun said on 25 October during the company's third-quarter earnings. "The key focus continues to be on liquidating our 787 and 737 inventory."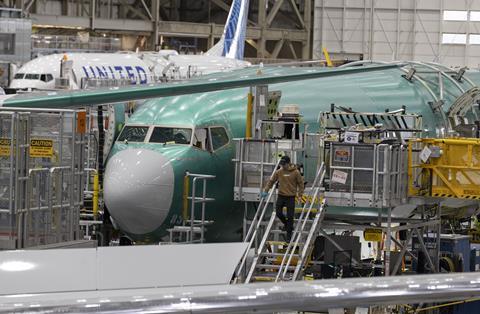 Boeing Commercial Airplanes lost $678 million in the third quarter, and the company now says it will not hit its previous target of delivering 400-450 737s in 2023. It cites a problem involving defective aft-pressure bulkheads supplied by Wichita-based Spirit.
Boeing now expects to close 2023 with 375-400 737 deliveries for the year.
The pressure-bulkhead problem has forced Boeing to complete the tedious work of inspecting hundreds of drill holes in the bulkheads of many of its stored 737 Max. Boeing chief financial officer Brian West says some 75% of Boeing's roughly 250 stored 737 need inspections.
Those inspections also left Boeing delivering only 15 737s in September, and West says deliveries this month will be comparably light.
"We're moving through rework on the most recent non-conformance in the aft-pressure bulkhead. That work slowed production and deliveries down in the course of the quarter," says Calhoun.
Slowdown aside, Calhoun says Boeing is pushing to bring the 737 production system to a rate of 38 jets monthly before year-end, and to 50 monthly by 2025 or 2026. Boeing this year stabilised the rate at 31 jets monthly.
"We are keeping our suppliers hot, according to the master schedule," he says. "Rates solve most of the supply chain's problem" by allowing suppliers to generate more revenue and remain financially fit.
"Suppliers are continuing with planned rate increases," adds West.
The aft-pressure bulkhead trouble has only exacerbated Boeing's problem with undelivered jets. The company began storing 737 Max in March 2019, when regulators globally grounded the type. Boeing continued assembling them even with deliveries stopped.
It has since been working through an inventory that once stood at about 450 jets, and ended September with about 250 on its hands, says West.
Boeing still expects to deliver "most" of those 737s by the end of 2024, but West notes the bulkhead issue will push more of those deliveries into 2025.
Boeing has a similar inventory problem with 787s, many of which it accumulated after halting deliveries of the type in October 2020 due to quality shortfalls.
The company ended the third quarter with 75 of the widebody jets in storage, says West, adding, "Rework is progressing nicely, and we still expect most to be delivered by the end of 2024."
All those stored jets are causing Boeing operational trouble and financial strain. "Correcting non-conformances gets exponentially easier when this inventory has been delivered to our customers," West says.
Calhoun describes the resources Boeing is devoting to 737 and 787 rework as "shadow factories", and says finishing the rework will enable Boeing to focus all its resources on production.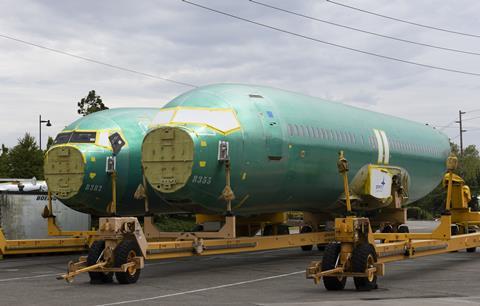 Calhoun also on 25 October addressed the fitness of Spirit, which supplies components including 737 fuselages and which has struggled in recent years with operational, financial and quality issues.
On 18 October, Spirit said it and Boeing reached a new commercial agreement under which Boeing will provide Spirit $100 million to fund "tooling and capital" related to 737 and 787 rate increases.
The deal also increases prices Boeing will pay Spirit for 787 components in the near term, and decreases prices for 737 components starting in 2026. Spirit says the terms will leave it with $60 million more cash this year and $395 million more total in 2024 and 2025.
Calhoun calls the deal a "mutually beneficial agreement that will enhance stability of our production system".
He also nods to Spirit's new CEO – someone with whom Boeing executives are familiar.
On 2 October, Spirit said it had replaced longtime CEO Tom Gentile with interim CEO Shanahan. Shanahan joined Boeing in 1986 and worked there three decades, holding positions including senior vice-president of supply chain and operations, senior vice-president of commercial airplane programmes and vice-president of the 787 programme. He was later US deputy secretary of defence.
"Pat Shanahan is known to The Boeing Company," says Calhoun. "We have great respect for his abilities on the shop floor."
"We've had – just in the last 30 days – as many interactions with Pat as we've had over the last year, even though we've had more than 100 people embedded at Spirit," he adds.