Boeing is gearing up to begin another round of ecoDemonstrator technology-evaluation flights, this time using a newly acquired 777-200ER that comes to the company fresh out of airline service.
Earlier this week, the Rolls-Royce Trent 800-powered aircraft (N861BC) sat in a hangar at Boeing Field in Seattle, its cabin stripped bare in preparation for the installation of test equipment.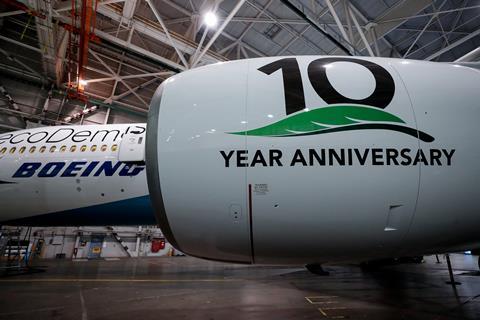 The company revealed the jet, newly painted in an ecoDemonstrator livery, on 16 June.
"We are giving life to this 20-year-old airplane as a flying testbed," Boeing ecoDemonstrator programme manager Rae Lutters says.
Boeing delivered the aircraft new to Singapore Airlines in 2002. Later, Air New Zealand and then Suriname Airways operated the jet, according to Cirium data.
Boeing plans to use the 777-200ER to test some 30 new technologies, many related to improved efficiency.
"The airplane is being outfitted now with the test equipment that it needs," says Boeing Commercial Airplanes vice-president and general manager of product development Mike Sinnett. "In another month or so we'll start operating the airplane, and we will operate it for six months."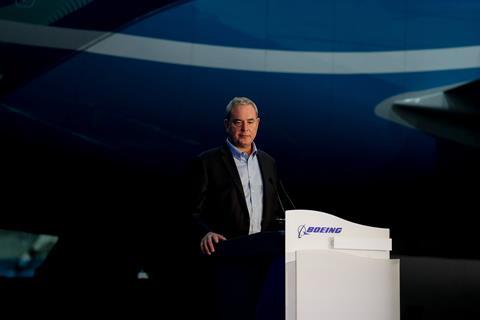 The latest ecoDemonstrator's test missions will include evaluation of components, including an engine bracket and an auxiliary power unit (APU) exhaust duct support panel, produced using additive manufacturing, also known as 3D printing.
The APU support panel is "one of the largest additive-manufactured parts" tested by Boeing, Lutters adds.
Additionally, in partnership with NASA, Boeing will use the 777-200ER to test vortex generators that can be retracted into the wing during cruise flight in order to reduce fuel consumption. Vortex generators are small vanes on aircraft wings designed to improve aircraft performance at slower speeds.
Additionally, the latest ecoDemonstrator programme will involve evaluation by Boeing and Universal Avionics of a new camera for use as part of an enhanced vision system (EVS), and of a new "head-worn head-up display" for pilots.
EVS is a technology that uses cameras and other sensors to generate a composite image of the outside world to give flightcrew improved situational awareness in low-visibility conditions.
Boeing is also using the ecoDemonstrator to test a system that will use aircraft-sink waste water to flush toilets, allowing aircraft to carry as much as 181kg (400lb) less water per flight, Boeing says. It is conducting those studies with Diehl Aviation.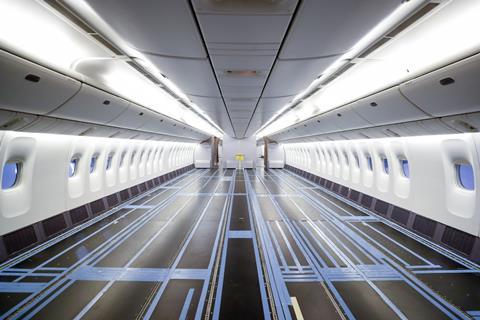 Additionally, the latest ecoDemonstrator flights will see Boeing partner with aerospace company Meggitt to evaluate a new aircraft fire-fighting system that does not use the ozone-depleting substance Halon. Instead, the system uses a Meggitt product called "Verdagent", which it describes as a "clean agent".
Boeing will also work with Collins Aerospace to study a more-environmentally friendly galley refrigerant system.
Sinnett says the ecoDemonstrator programme helps the airframer achieve small efficiency improvements that, taken together, add up to notable reductions in fuel burn. He notes that new-aircraft programmes typically achieve an efficiency improvement in the order of 15-20%, with half the benefit coming from engines and half from the rest of the aircraft.
The latest round of tests marks the 10th year of Boeing's ecoDemonstrator programme, which the airframer kicked off in 2012 with a 737-800 test aircraft.
Since then, Boeing has placed several other aircraft – a 737 Max 9, 757, 787-8 and 10, 777 Freighter, 777-200 and even an Embraer 170 – into ecoDemonstrator duty, and evaluated about 200 technologies through the programme, it says.
Boeing says the work has had real-world impact, leading to introduction of the 737 Max's improved-efficiency winglets, iPads capable of providing pilots with current weather information, advanced cockpit touchscreen displays, and aircraft descent paths optimised to reduce noise pollution.