Boeing has resumed deliveries of the 737 Max, with United Airlines receiving an aircraft on 8 December, the carrier confirms.
The delivery to United comes nearly 21 months after regulators worldwide grounded the 737 Max following two crashes.
The US Federal Aviation Administration lifted the grounding on 18 November, requiring a series of software changes and setting new pilot-training standards.
"We took our first Max delivery since the grounding," United says.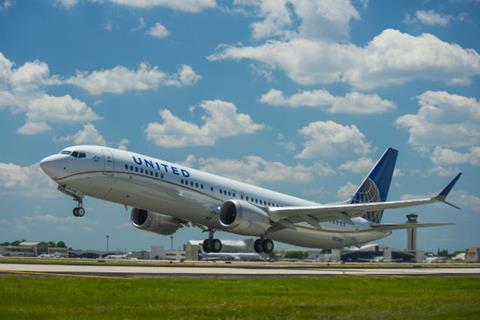 The airline adds that it "will inspect every aircraft, require our pilots to undergo additional training reviewed and approved by the FAA, and conduct test flights before we bring these aircraft back into service".
"We expect to start flying the Max in the first quarter of next year," United adds.
Boeing defers comment to United.
The Chicago airframer, airlines and the FAA insist changes made to the jet have eliminated the possibility of another accident being caused by the same sequence of events that contributed to two previous crashes.
Those accidents killed 346 people.
United has 14 737 Max already in its fleet and another 170 of the jets on order with Boeing, according to Cirium fleets analyzer.
Boeing has an inventory of some 450 undelivered 737 Max, and executives have said the company hopes to deliver half of those within about one year.