Boeing has slashed the number of stored 737 Max it expects to deliver in 2021.
The company now anticipates that next year it will deliver about half of the 450 Max it stockpiled amid the type's grounding, chief financial officer Greg Smith says on 28 October.
Boeing intends to deliver the "majority" of the remaining stockpiled jets in 2022, Smith adds.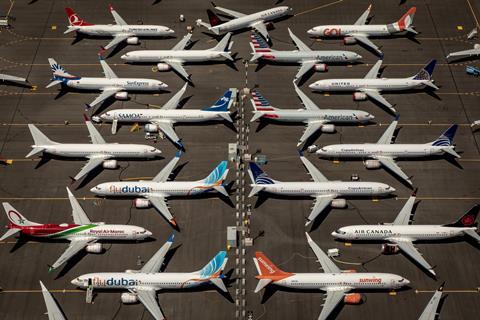 Previously, Boeing said it would hand over the "majority" of the 450 aircraft in the year after deliveries resumed.
Boeing accumulated the 450 jets during the grounding, which took effect in March 2019. The company now expects regulators will certificate the Max before year-end.
Restarting deliveries would provide Boeing with badly needed cash, as customers typically pay the majority of a jet's purchase price upon delivery.
But the coronavirus-driven industry downturn has depressed demand for new jets and led customers to cancel orders for hundreds of 737 Max. Those factors will surely affect the pace at which Boeing can pass jets to customers.
"We expect to have to re-market some of these aircraft, and potentially reconfigure them, which will extend the delivery time frame," says Smith.
"It's as fluid as anything you can imagine," chief executive David Calhoun says of Boeing's 737 Max return-to-service plan.
The delivery pace will also determine the rate at which Boeing builds new 737 Max next year.
"What will be hostage to the movement of those airplanes will be our production rate," Calhoun says. "We are determined not to create a bigger problem than we started with."
Calhoun also expresses optimism that the Max's return might coincide next year with industry recovery.
Such a scenario might "lend itself, in my opinion, to a little bit of a run on the bank with respect to narrowbody airplanes", Calhoun says.