Deals landed at the Paris air show pushed Boeing's net aircraft orders in June to 288, more than it has logged in any month in recent memory.
Notably, the manufacturer's activity last month included a now-finalised order from Saudi Arabian start-up Riyadh Air for 39 787s.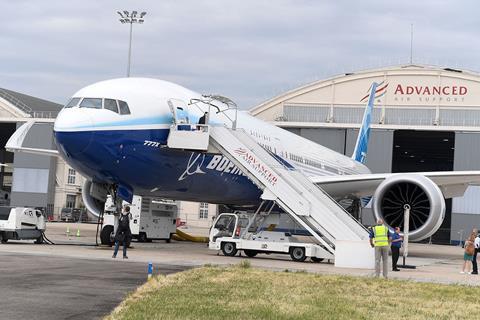 Boeing also took 213 orders for the 737 Max in June and managed to increase the pace of narrowbody deliveries, handing over 48 of the jets during the period.
In all, 190 of the 737 Max orders stemmed from the confirmation on 20 June of tentative February deal with Air India which also included 20 787-9s and 10 777X aircraft.
Besides the Air India and Riyadh Air agreements, Boeing also booked widebody orders for four 777 Freighters and another pair of 787s for Air Lease.
Boeing also last month completed what it calls the "re-contracting" of a 16-strong 777X deal with Emirates Airline. The change involved the manufacturer logging those 16 jets as both cancelled and then re-ordered by the carrier.
Additionally, the airframer made accounting adjustments in June that added another 17 aircraft to its backlog, upgrading them from an accounting bucket reserved for orders it suspects will not actually close.
Boeing delivered 60 aircraft in June, including one 737NG-based military surveillance jet, 48 737 Max, four 767-300Fs, one 777F and six 787s.
For the six months to end-June, it has delivered 216 737s against an annual target of 400 to 450.
Boeing closed June with 4,879 aircraft in its backlog, including 3,818 737s, 112 767s, 380 777s and 569 787s, its data shows.