Boeing plans to significantly hike commercial aircraft deliveries in 2023, aiming to hand over up to 80 787s and 450 737s next year after overcoming nagging supply and labour problems.
Executives revealed the delivery targets on 2 November, saying Boeing by 2025 or 2026 will be delivering a combined 800 aircraft annually – returning it to a level last achieved in 2018, prior to the Covid-19 pandemic and 737 Max grounding.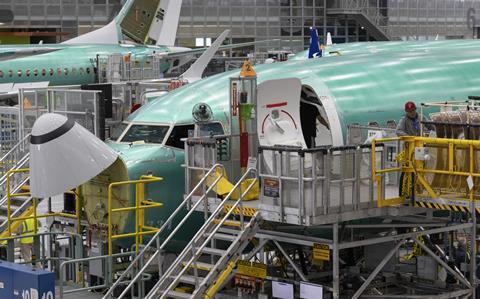 The planned delivery ramp will also fuel a financial turnaround, letting the company reward shareholders, executives say, with Boeing Commercial Airplanes chief executive Stan Deal calling the 737 Max the company's revenue "engine".
"I want nothing more than to return money to you," Boeing chief financial officer Brian West tells investors. He and others spoke during a Boeing investor conference.
The manufacturer aims to start 2023 at a monthly delivery rate of about 30 737s, climbing to 40 monthly in the second half.
Boeing expects in 2023 to deliver 400-450 737s, equating to a monthly average of 33-38. As 2023 progresses, Boeing will stabilise its production system and "get ready for a [delivery] ramp" in following years, West says.
Boeing has struggled to meet its 737 delivery goals this year, handing over 277 of the narrowbodies through September.
One week ago, the company slashed, for the third time this year, its full-year 2022 delivery estimate, citing supply trouble and lack of 737 Max shipments to Chinese airlines.
It now anticipates 375 737 deliveries this year, down from a "low 400s" prediction in July, down from 500 in January.
Boeing also anticipates delivering 70-80 787s in 2023, which would be a massive ramp considering Boeing offloaded just nine of the widebodies this year through September. The company restarted 787 shipments in August following a pause due to manufacturing defects that lasted most of the preceding 20 months.
Due to that halt, some 787 suppliers are still at "rate zero", says Deal, adding that widebody jet demand is now "emerging" after being crippled during the pandemic.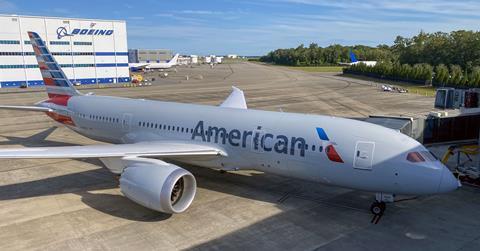 Boeing aims to continue accelerating deliveries after 2023 with ambition by 2025 or 2026 of shipping monthly 50 737s, 10 787s and four 777s. At those rates, Boeing would be moving about 800 commercial jets annually, West says.
By comparison, Boeing delivered 328 aircraft of all types in the first nine months of this year. It shipped 340 jets in 2021 and 157 in 2020 (both pandemic-hammered years), and 380 in 2019, during the Max grounding.
Before all those problems, in 2018, Boeing's deliveries came to 806 aircraft, its figures show.
Reaching its goals requires Boeing to fix ongoing and significant production troubles, including supply chain constraints that are leaving it short of components, and an insufficient number of skilled workers that is contributing to what Deal calls "quality issues".
He cites lack of engines as "the limiting factor" affecting 737 production but says Boeing has been short of electric and galley components also.
A source within Boeing says the company's 737 wing-production line has been beset by manufacturing defects caused partly by errors made by new workers. Boeing has repeatedly halted wing production in recent months to fix problems including miss-drilled holes, says the source, who declines to be identified.
On 2 November, Boeing chief executive David Calhoun notes the company this year has hired 10,000 new staff, including many engineers. Boeing employed 142,000 people at the end of 2021, having winnowed its workforce during the pandemic down from 161,000 at the end of 2019.
Boeing needs the production-rate ramp to fuel a financial turnaround it says will allow Boeing Commercial Airplanes to throw off $2.5-3.5 billion in operating cash next year and $9 billion in 2025 or 2026, says West.
Boeing Commercial Airplanes lost $1.7 billion in the first nine months of 2022 and $6.5 billion in 2021.
Executives insist Boeing does not need to raise more cash to make good on its plan. West estimates the firm will end 2022 with about $17 billion in cash – $7-9 billion more than what he calls Boeing's "historical baselines".
The company ended September with cash and cash equivalents valued at $13.5 billion, up from $8 billion at end-2021.