Boeing has ditched a goal for its aircraft service division to grow its revenue to $50 billion annually in the coming years, saying doing so would lead to "indiscriminate" investment.
Chief executive David Calhoun made clear on 2 November that Boeing dumped that target – a goal that became increasingly hard to reach following the 737 Max' troubles and the pandemic-induced commercial aerospace downturn.
"We are not after that number because what that leads to is undisciplined capital allocation," Calhoun says during Boeing's investors day. "Fifty billion is not in any… chart or any discussion."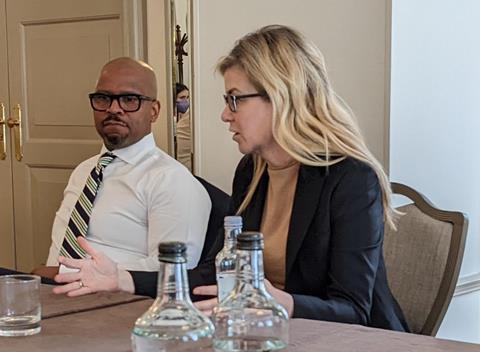 In late 2016, Boeing revealed plans to merge all its aircraft service work into a new business unit called Boeing Global Services. At the time, former CEO Dennis Muilenburg said he hoped the division would reach the $50 billion revenue mark within about ten years.
Even then, the goal was a stretch, with Muilenburg having called it a "big, audacious target".
Toward that end, Boeing continued expanding its service business through acquisitions, including of aeronautical data provider ForeFlight and part supplier KLX Aerospace Solutions. In 2018, Boeing also formed a joint auxiliary power unit business with Safran called Initium Aerospace (which has since been shuttered), and a joint aircraft seating business with Adient Aerospace.
In 2018, Boeing Global Services generated $14.6 billion in revenue.
But revenue sunk amid the 737 Max grounding and subsequent pandemic, hitting $15.5 billion in 2020.
Boeing Global Services' revenue has since rebounded, hitting $16.3 billion in 2021 and $13 billion in the first nine months of 2022.
In 2022, Boeing named Stephanie Pope as Boeing Global Services CEO, succeeding Ted Colbert.