Boeing is requesting at least $60 billion in government aid to support the broader US aerospace manufacturing sector – funds the company says will help the industry weather the coronavirus downturn and protect 2.5 million jobs.
"Boeing supports a minimum of $60 billion in access to public and private liquidity, including loan guarantees, for the aerospace manufacturing industry," the Chicago-based company says in a 17 March statement. "This will be one of the most important ways for airlines, airports, suppliers and manufacturers to bridge to recovery."
The company says the request is for funds that would be available to the entire aerospace manufacturing sector, including Boeing and thousands of its suppliers.
"We look forward to working with the administration and Congress as they consider legislation and the appropriate policies," Boeing adds.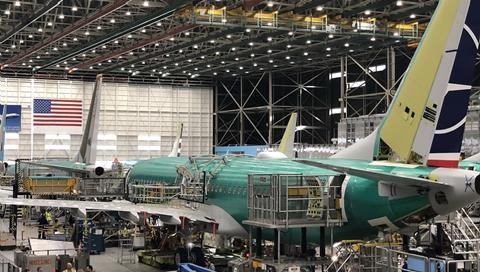 The Aerospace Industries Association, which represents aerospace companies, did not immediately respond to questions about government aid requests.
Boeing's request comes the same day President Donald Trump pledged to assist Boeing and travel-related industries, including the airline sector, which has requested $58 billion in aid.
Boeing says the government assistance would "support the health of the broader aviation industry, because much of any liquidity support to Boeing will be used for payments to suppliers to maintain the health of the supply chain".
The company, which halted production of its 737 Max in January, a move that itself caused significant supply chain disruption, spurring layoffs at companies including fuselage maker Spirit AeroSystems, says the "long-term outlook for this industry is still strong".
"But until global passenger traffic resumes to normal levels, these measures are needed to manage the pressure on the aviation sector and the economy as a whole," Boeing adds.
Story updated on 17 March to note that Boeing says the funds should be made available to the entire aerospace manufacturing sector.