Boeing has pushed back its first 777X delivery, slashed production rates, warned of more layoffs and confirmed it will end 747 production in 2022.
The company also says it is to evaluate whether to consolidate its two 787 production facilities.
The changes, disclosed on 29 July as the company announces its second-quarter results, amount to a broad restructuring intended to help Boeing weather the coronavirus downturn.
"To align to the sharp reduction in commercial market demand in light of Covid-19, the company is taking several actions including further adjusting commercial airplane production rates and reducing employment levels," Boeing says.
Boeing lost $2.4 billion in the second quarter.
"We're working closely with our customers, suppliers and global partners to manage the challenges to our industry, bridge to recovery and rebuild to be stronger on the other side," adds chief executive David Calhoun.
The first 777-9 delivery is now "targeted for 2022", Boeing said on 29 July. Previously, the company had said it would begin deliveries of the first variant of the 777X family in 2021.
That change marks another significant delay for the 777-9, which is undergoing flight-testing amid what analysts call the worst aviation downturn in history. The 777X programme has already been delayed due to an design issue with the jet's GE Aviation GE9X powerplants.
Boeing has also cut production rates for the 737 Max, 777 and 787.
Boeing will "gradually" reduce its combined 777/777X production rate to two jets monthly in 2021. Until recently, Boeing had produced five 777s monthly, but earlier this year said it would reduce that rate to three aircraft monthly in 2021.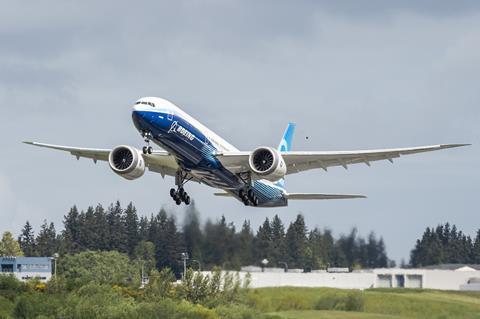 The company will "gradually increase" production of the 737 to 31 jets monthly by the beginning of 2022, "with further gradual increases to correspond with market demand". Boeing, which resumed 737 Max production in May after a five-month hiatus, previously said it would reach the 31-monthly rate by 2021.
Production of the 737 Max is currently proceeding at a "low", but unspecified, rate, Boeing says.
Additionally, Boeing says it will reduce 787 production to six aircraft monthly in 2021. The company had previously said it would cut 787 output to 10 jets monthly this year and to seven a month by 2022.
Prior to the Covid-19 pandemic, Boeing was producing 14 787s a month.
"With this lower rate profile, we will also need to evaluate the most efficient way to produce the 787, including studying the feasibility of consolidating production in one location," Calhoun said in a 29 July message to Boeing employees. "We will share more with you following our study."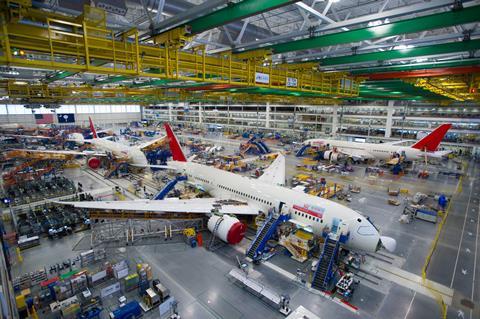 Boeing assembles 787s in Everett, Washington and North Charleston, South Carolina..
"The market simply won't support higher output levels at this time, and we need to adapt accordingly," adds Calhoun.
Boeing has not adjusted 747 or 767 production rates. The company has been producing 0.5 747s monthly and three 767s monthly.
But Calhoun confirms speculation that Boeing will indeed end 747 production in 2022, 53 years after the type's first flight in 1969.
"In light of the current market dynamics and outlook, we'll complete production of the iconic 747 in 2022," Calhoun's letter to staff says. "Our customer commitment does not end at delivery, and we'll continue to support 747 operations and sustainment well into the future."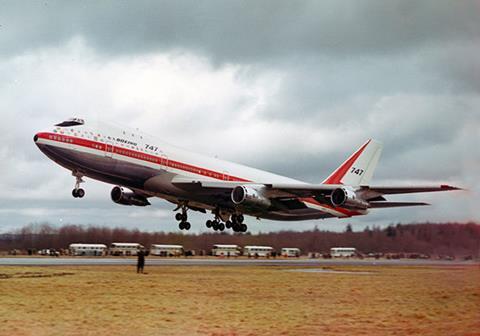 MORE WORKFORCE CUTS
Boeing warns the continued aerospace downturn will necessitate additional workforce reductions.
"Lower demand for commercial services means we'll have to further assess the size of our workforce," Calhoun's letter says. "This is difficult news, and I know it adds uncertainty during an already challenging time. We will try to limit the impact on our people as much as possible going forward."
Boeing, which had 161,000 staff worldwide at the end of 2019, has not disclosed details about potential additional job losses. The company earlier this year announced a 10% staff cut, acheived through layoffs, employee attrition and voluntary staff departures.
Boeing's $2.4 billion second-quarter loss comes on second-quarter revenue of $11.8 billion, down 25% year-on-year. Expenses declined 27% year-on-year to $13 billion.
Boeing Commercial Airplanes lost $2.8 billion in the second quarter – actually an improvement from the second quarter 2019, when it lost $4.9 billion. Both quarters reflect the impact of the 737 Max grounding, which took effect in March 2019.
The commercial division generated $1.6 billion in revenue during the second quarter, down 65% from $4.7 billion from the second quarter of 2019.
Boeing Global Services lost $672 million in the second quarter, reversing a $687 million profit in the same period last year.
The services results also reflect less volume due to the pandemic.
Boeing Defense, Space and Security earned a $600 million profit in the second quarter, down 38% from one year earlier.
Boeing ended the second quarter with $32 million in cash and marketable securities, roughly double its available funds three months earlier. It recently secured $25 billion in additional financing and had $61 billion in debt at the end of the period, up from $39 billion at the end of March.
"The diversity of our balanced portfolio and our government services, defence and space programmes provide some critical stability for us in the near-term as we take tough but necessary steps to adapt for new market realities," Calhoun says. "We are taking the right action to ensure we're well positioned for the future."
The letter to employees notes that Boeing continues to evaluate its business for efficiency improvements, with more changes possible.
"We also are focused on not just adapting and recovering but also emerging stronger and more resilient," Calhoun says. "We are looking holistically at our infrastructure footprint, our overhead and organisational structure, our portfolio and investments, our supply chain health and stability.
"With this lower rate profile, we will also need to evaluate the most efficient way to produce the 787, including studying the feasibility of consolidating production in one location. We will share more with you following our study."