Boeing is slowing 787 production in order to address a new manufacturing issue that the company says involves an issue with the jet's forward pressure bulkhead.
The airframer has also slashed the number of Dreamliners it expects to deliver in 2021, now predicting it will hand over about half of the roughly 100 787s it holds in inventory.
Previously, Boeing told investors it would deliver the majority of those jets this year.
News of a new 787 manufacturing problem came to light on 12 July when the Federal Aviation Administration (FAA) said a "manufacturing quality issue near the nose" of some of Boeing's undelivered 787s had been identified.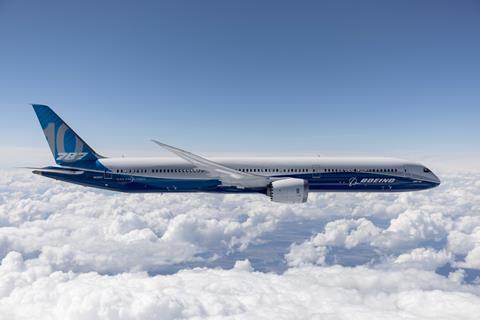 Though the FAA disclosed no details, Boeing now confirms the issue involves gaps in the forward pressure bulkhead that fail to meet specifications. The company says spacing between joins does not meet its tolerances, which are measured in thousands of an inch.
"As Boeing has previously shared, the company has been engaged in detailed discussions with the FAA on verification methodology for 787 fuselages, and conducting associated inspections and rework," the company says. "In connection with these efforts, the company has identified additional rework that will be required on undelivered 787s."
Boeing says the problem does not compromise safe flight, though it is performing rework to address the issue on undelivered jets in its inventory. The company does not say how many jets are affected or how long the inspections and rework might take.
In addition, Boeing is working to determine if in-service jets might also need similar fixes, it says.
In response, for several weeks Boeing will shift some employees from working on 787 production to jobs involving inspection and rework. As a result, the company expects its 787 production rate will decline temporarily below its target rate of five jets monthly.
Boeing does not say how long the production rate cut will last, but says the reduced output will enable the company to improve quality. The company confirms it is not halted production and says it will gradually return to the five-per-month rate.
"Based on our assessment of the time required to complete this work, Boeing is re-prioritising production resources for a few weeks to support the inspection and rework," the airframer says. "As that work is performed, the 787 production rate will temporarily be lower than five per month and will gradually return to that rate. Boeing now expects to deliver fewer than half of the 787s currently in inventory this year."
The new issue comes on top of a separate issue involving the "skin flatness" of aft 787 fuselage sections. That issue led Boeing in May to halt 787 deliveries, which have yet to resume.
The FAA said the May delivery halt came because it needs time to review a Boeing-proposed algorithm designed to aid with the company's inspections of fuselage sections. The FAA has not completed that review, Boeing says.
Boeing had previously, from October 2020 to March, paused 787 shipments due to skin-flatness problems.
"We will continue to take the necessary time to ensure Boeing airplanes meet the highest quality prior to delivery," Boeing says.