Boeing's 787 programme continues gaining momentum as it recently stepped up production of its flagship widebody jet to four aircraft monthly.
Lane Ballard, vice-president and general manager of the 787 programme, said during a 30 May press conference at the company's 787 assembly plant in Charleston, South Carolina that the airframer is now rolling a 787 off its production line every five production days.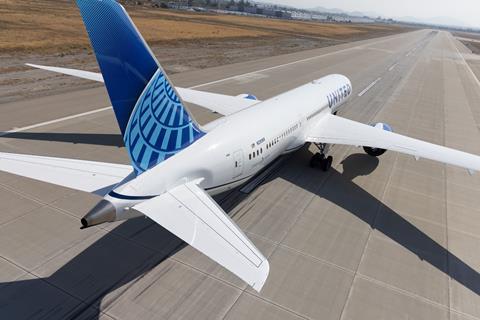 Boeing plans to ramp up production of its flagship widebody to five aircraft monthly by the end of the year, and to double that rate by opening a second production line in 2024.
"Next year, you will actually see a second line in progress as we start going back up in rate," Ballard says.
The Arlington, Virginia-headquartered company has previously stated that it hopes to deliver 70 to 80 787s in 2023, a volume that equates to an average of 5.8 to 6.7 monthly Dreamliner deliveries.
Currently, half of the floor at Boeing's 787 production plant is dedicated to joint verification work as the company works through a backlog of undelivered aircraft.
"We have about 90 aircraft in inventory that we are working to get delivered," Ballard says. "We are working to get those planes delivered by the end of the year."
Boeing will then use the extra factory floor space to add a second 787 final assembly line.
"The plan is go up to 10 a month – five a month [on the existing line] and five a month on the other one," Ballard says.
Boeing was producing 14 Dreamliners monthly prior to the beginning on the Covid-19 pandemic in March 2020, when the company was still splitting final assembly and delivery operations between its facilities in Charleston and Everett, Washington. The company has since consolidated 787 production at the Charleston facility.
The 787 programme has suffered from a series of high-profile setbacks, most prominently a manufacturing quality issue involving paper-thin gaps between sections of the type's composite fuselage. The problem forced Boeing to stop deliveries for most of 22 months.
But the programme has shown positive momentum since resuming deliveries in August 2022. Boeing says it has received 250 orders for Dreamliner-family aircraft in the past six months.
There are more than 1,000 787s currently in operation, according to Cirium fleets data. Boeing says it has delivered 79 of the 787-10, the largest variant of the type.