Though Boeing continues working toward delivering the first 777-9 in 2022, the company's chief executive has warned about potential further changes to the timeline.
On 28 October, CEO David Calhoun said certification of the 777-9 – the first 777X variant – has incorporated "learnings" from the 737 Max certification process.
The pace of certification, Calhoun added, will be set by regulators.
"On the 777X, we continue to work with the regulators on certification work-scope, including reflecting the learnings from the 737 cert process," Calhoun says during Boeing's third-quarter earnings call.
"As with any development programme, there are inherent risks that can affect schedule," Calhoun adds. "While we continue to drive toward entry into service in 2022, this timing will ultimately be influenced by certification requirements defined by the regulators."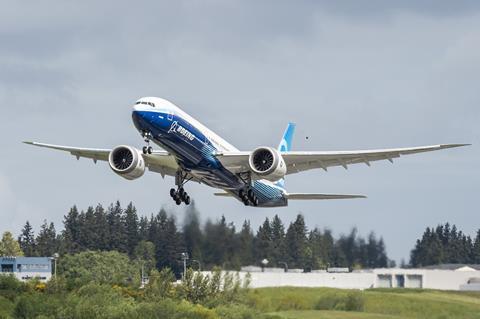 Calhoun does not specify what 737-related lessons have been incorporated into 777X certification work. He mentioned similar lessons during Boeing's previous earnings call.
Boeing has pushed back the 777-9 timeline several times.
In 2019, the company aimed to begin deliveries in 2020. Later, it shifted that milestone to 2021. In July, Boeing disclosed another delay, saying deliveries would begin in 2022 due to factors including the test timeline and the impact of the Covid-19 pandemic. The pandemic has particularly hammered demand for long-range widebody jets.
The first 777-9 made its maiden flight in January.