Boeing expects to deliver between 30 and 40 737s monthly in 2023 – and where it falls in that range will depend largely on its ability to fix supply and labour issues.
That is according to Boeing executives, who on 25 January said the company's 737 delivery pace remains unstable.
"We are not stable. We are still bumpy. But we still feel good about the overall trajectory," says Boeing chief financial officer Brian West.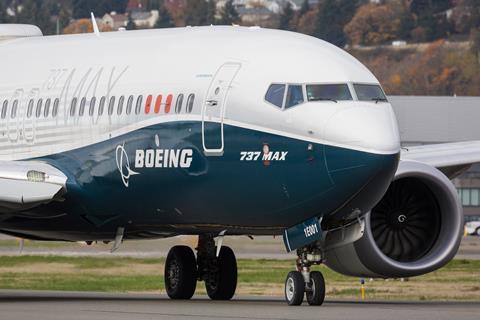 He spoke during Boeing's 2022 earnings call, when executives stressed that they are focused intently on ironing out labour and supply chain wrinkles that are hindering 737 production.
"We continue to face a few too many stoppages in our lines," says Boeing chief executive David Calhoun. "Difficult, difficult supply chain."
Boeing's monthly 737 delivery rates varied wildly in 2022, with the company handing over 53 of the jets in December but only 33 in November and 23 in October, according to its figures. Boeing delivered an average of 32 737s monthly in all of 2022.
"Our fourth quarter was good, but if you look at the month-to-month in the quarter, you couldn't be happy about that," Calhoun says.
He has previously cited shortages of CFM International Leap-1B turbofans, which power 737 Max. Other Boeing executives have cited wiring and cabin-component shortages.
On 25 January, Calhoun said he is now receiving "transparency" from suppliers about their realistic ability to produce and ship 737 components. "No one is out guessing," he says.
But employee training is still gumming up the works.
"Hiring is not constrained anymore," Calhoun says. "It's all about the training… Getting [employees] ready to do the sophisticated work we demand."
Boeing on 25 January told investors that Boeing Commercial Airplanes will likely generate $2.5-3.5 billion in cash this year.
Boeing will come in at the low end of that range if it cannot ramp 737 production beyond current rates, West says. Hitting the $3.5 billion ceiling would likely require 737 deliveries to hit or exceed 40 monthly by the second half of 2023.
"We are prioritising stability, which we have not yet achieved but are on a trajectory to do so," Calhoun says.
Historically, Boeing's production rates roughly mirrored delivery rates. The 737 Max grounding upended that trend, leaving Boeing with a stockpile of undelivered 737s.
Now, its monthly 737 deliveries can include both newly produced jets and those from its inventory.
West says Boeing's inventory now includes 250 737 Max, among them 138 jets due to Chinese customers.
Boeing expects to deliver most of the 250 aircraft by the end of 2024, West says, but progress depends on when Boeing resumes shipments to Chinese airlines.
Those shipments have been halted since the type's 2019 grounding, and only this month did Chinese airlines resume 737 Max flights.
Calhoun declines to speculate when Boeing might restart 737 deliveries to China, but it could take time. The airlines must likely first return to service the 737s they already have, he says.
Those airlines have 99 737 Max in storage, according to Cirium fleets data.