Boeing is still periodically pausing 737 production due component shortages and other supply chain problems.
"If we get a part [that is] defective, if we don't get a part because they can't make it, we have to pause our line," Boeing chief executive David Calhoun says on 15 September. "That's a new practice. We never used to do it that way."
Boeing will continue pausing until "we're not getting defects or we're not getting shortages," Calhoun adds, speaking during an aerospace event in Washington, DC.
Boeing is not alone in suffering from supply problems. Companies up and down the aerospace supply chain have been struggling to meet increased production coming as the aerospace industry recovers from the pandemic-driven downturn.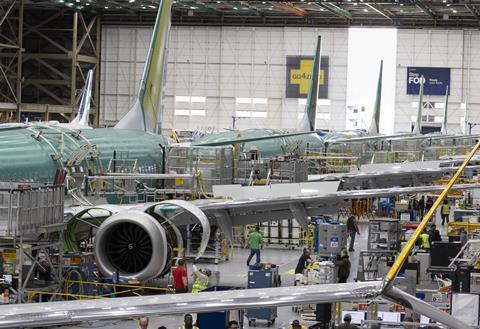 Some suppliers are "having a hard time with quality", Calhoun says. "Our job is to make sure we don't increase rate until we are stable."
In August, FlightGlobal reported Boeing had been temporarily halting wing manufacturing due to supply issues, sometimes leaving workers with hours of time to kill. Components in short supply have included wiring harnesses, Boeing has said. A source has also cited shortages of cabin components.
Suppliers are combating inflation and lack of enough skilled workers. Higher interest rates have driven up borrowing costs, challenging suppliers' ability to fund badly needed expansion.
Those factors are creating a "squeeze on cash flows", Tom Gentile, chief executive of Boeing suppler Spirit AeroSystems said on 15 September.
"We've actually seen more bankruptcies in the last six months that we saw during the whole pandemic," he added, speaking at the same event.
Such issues have limited Boeing's ability to boost production of the 737 line. The company said in July it met a goal of producing 31 737s monthly but warned about challenges in stabilising production lines at that rate.
"We are at the 31-rate," Calhoun added on 15 September.
The company does not disclose monthly production numbers. But data provider Cirium tracks first flights, which it says can be used as a rough – though perhaps delayed – proxy for production.
In August, 20 737s completed their first flights, and 12 made first flight this month so far, Cirium data shows.
Boeing's deliveries have also been lagging. It handed over 28 737s in August, and 23 in July, the company reported.
Boeing's delivery figures are removed from its production rates largely because deliveries include aircraft from an inventory of jets that Boeing accumulated during the grounding.