Boeing in recent weeks pulled 55 777s from its backlog, signalling the company doubts those orders will result in actual sales.
The airframer confirms the change, which is reflected in its publicly available backlog data.
The airframer moved orders for 55 777s out of its backlog, placing them into an accounting bucket called "ASC-606". That bucket holds orders that Boeing suspects will not close due to any number of factors.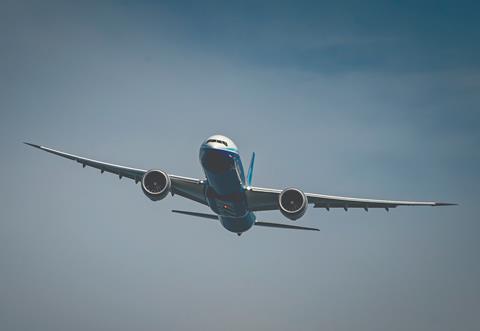 Boeing made the change on 27 April, and it declines to specify the reason. Also on 27 April, Boeing disclosed a two-year delay to its 777-9 programme.
It attributed the adjustment to its backlog as of the end of March.
Every month, Boeing releases backlog data for the previous month. The data includes the previous month's orders, deliveries and accounting adjustments.
On 12 April, Boeing's website showed the company had 353 777s in its backlog as of the end of March, and another 73 in the ASC-606 bucket.
After the change on 27 April, the website showed 298 777s in the backlog and 128 in ASC-606 – also as of the end of March.
On 10 May, Boeing updated its backlog again, this time with April figures. In April, the company delivered three 777s and took two new 777 orders, leaving its end-April backlog with 297 of the jets. In recent days, however, Boeing landed a major win, securing new orders from Lufthansa for seven 777-8 Freighters and three 777Fs. Lufthansa also ordered seven 787-9s.
Boeing disclosed its latest 777-9 programme delay on 27 April. The company now plans to deliver the first 777-9 in 2025, changed from its previous goal of 2023.
Boeing attributed the delay to "an updated assessment of the time required to meet certification requirements".
Observers widely view the timeline change as reflecting additional certification work required by heightened oversight by the Federal Aviation Administration in the wake of the 737 Max disaster.
Boeing still holds firm sales contracts for all orders in its ASC-606 bucket.
Story updated on 12 May to note that Boeing subtracted the 55 777s from it backlog on 27 April, Boeing tells FlightGlobal.