Boeing has taken initial steps to cut its workforce by offering voluntary separation packages to US-based employees, part of a plan to help the company weather what could be an extended industry downturn.
The company's chief executive Dave Calhoun notified employees of Boeing's voluntary workforce reduction efforts in a 2 April memo to staff.
The memo stresses that Boeing aims to use "natural and voluntary employment actions to the extent we responsibly can".
"We are initiating a voluntary layoff plan that allows eligible employees who want to exit the company to do so with a pay and benefits package," says Calhoun's memo. "This move aims to reduce the need for other workforce actions."
Such steps "will bridge us to recovery as long as we're not confronted with more unexpected challenges," says Calhoun. "I can't predict with certainty what the next few months will bring, but I can commit to being honest about what's happening."
The company expects "several thousand employees" will either take voluntary separation packages or retire, says a Boeing official. The packages are available only to employees in the USA, though Boeing is exploring making similar offers to non-US staff.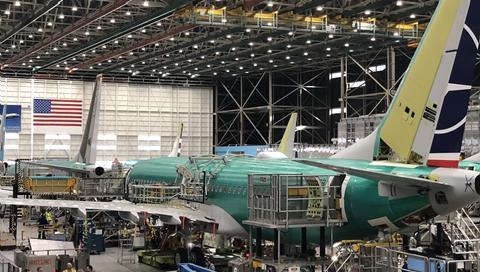 Boeing does not specify what business areas are likely to be most impacted. However, an official stresses that Boeing continues to recruit new employees for "certain targeted areas, to ensure we're able to meet the needs of our critical programmes, including commitments to our defence and space customers".
Boeing employed 161,100 people at the end of 2019, according to a security filing.
Calhoun's memo says the company is "doing everything possible to keep this team intact" so that it can rebound after the coronavirus downturn, which has led the world's airlines to ground thousands of aircraft. Many airlines have entirely halted operations.
But, he warns, recovery may not come quick.
"It will take time for the aerospace industry to recover from the crisis. When the world emerges from the pandemic, the size of the commercial market and the types of products and services our customers want and need will likely be different," Calhoun says. "We will need to balance the supply and demand accordingly as the industry goes through the recovery process for years to come."
Boeing will send employees more information about the voluntary layoff programme in the next three to four weeks, the memo says.
It adds Boeing continues to work toward certification of the 737 Max.
The news comes the week after the US government passed a coronavirus economy relief package that could provide billions of dollars in government loans to "distressed" aerospace companies.
Boeing has not said if it intends to apply for government loans, which come with conditions that potentially include government ownership stakes.
On 25 March Boeing shuttered its Seattle-area sites for what the company said will be a two-week period due to a coronavirus outbreak among staff. One Boeing employee reportedly died from infection.