Boeing is working to issue another $9.8 billion in debt for the purpose of paying off and refinancing other liabilities.
The Chicago-based company, which disclosed the new financing on 2 February, insists the move does not indicate that it intends to add to its already hefty debt load.
"Boeing plans to use all proceeds from the transaction to pay down existing debt, ensuring the company's overall debt balance remains stable," Boeing says.
The company expects the deal will close on 4 February.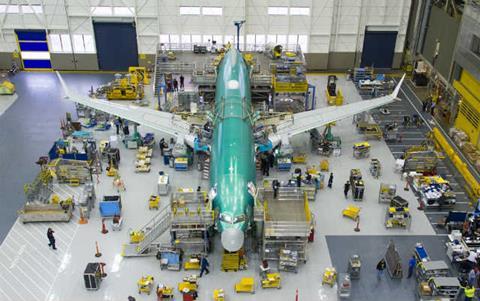 Boeing chief financial officer Greg Smith calls the latest debt offering "another prudent step for us as we carefully manage liquidity through the global pandemic, prepare for a market recovery and transform our business for the future".
"The solid demand for this bond offering reflects the continued confidence the market has in our long-term future," he adds.
The $9.8 billion includes $1.325 billion that matures in 2023, $3 billion that matures in 2024 and $5.5 billion that matures in 2026, securities documents show.
During 2020, Boeing took on some $44 billion in debt. The first of that to come due is a $13.8 billion loan that matures in February 2022. The remaining roughly $30 million came from two debt issuances that mature later, starting in 2023, filings show.
At the end of 2020, Boeing had debt of nearly $64 billion.
Last week, Boeing disclosed that it lost $11.9 billion in 2020.
"We believe we currently have sufficient liquidity and are not planning to increase our debt levels," Smith said during the earnings call on 27 January. "However, we will continue to actively manage our balance sheet, including refinancing debt maturities."