Boeing intends to model the potential spread of coronavirus on aircraft as part of an effort to address onboard coronavirus contagion risks and reassure pandemic-weary passengers that air travel is safe.
Called "Confident Travel Initiative", the effort will see Boeing give airlines guidance aimed at minimising the pathogen's spread on aircraft, says Boeing executive Mike Delaney, who is leading the initiative.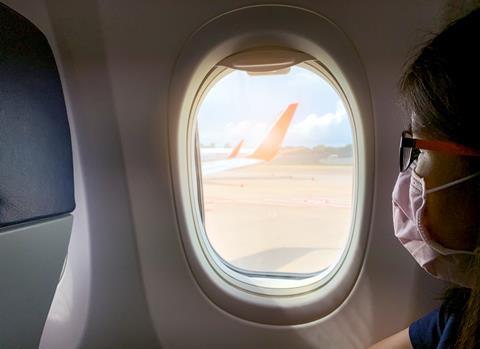 Boeing hopes modelling will predict how the virus might spread through aircraft with differing seating configurations. The company hopes to determine how variables such as coughing (with or without masks) and use of hand sanitizer might affect potential contagion.
"We are using science as opposed to anecdote… [and] emotionally-driven responses," says Delaney, who is also Boeing's vice-president of digital transformation.
The move comes one week after University of Washington School of Public Health dean Hilary Godwin warned lawmakers about the risk of coronavirus transmission on aircraft. Godwin said keeping passengers safe will be "inherently challenging" on aircraft, where passengers sit close together for extended periods.
Boeing already has a firm grasp of how air flows within its cabins – entering from the ceiling, flowing downward and exiting through floor vents. Half the air pumps in fresh through the engines, the other half runs through high-efficiency particulate air (HEPA) filters that trap most virus. Cabin air changes 20 to 30 times hourly, says Delaney.
"We are very confident [passengers] are in an environment that is extremely safe to begin with," he says.
The Chicago-based airframer is initially modelling a generic Boeing twin-aisle aircraft, though it may develop type-specific models.
Boeing's goal: "To ensure that… passengers and crew can safely fly on commercial flights with minimal impact" to aircraft and airline operations, says Delaney.
His team will identity the best means to prevent the virus from entering the aircraft, and the best way to kill pathogens that find their away aboard. The team will recommend how crews should respond if passengers become sick in flight.
Boeing is coordinating its work with trade groups like IATA and the Aerospace Industries Association, and working with health organisations. It has also spoken about the topic with Airbus, says Delaney.
Asked about his programme's budget, Delaney says Boeing's senior executives told him, "What you need, ask for it. You'll get it."