Boeing has agreed to pay $2.5 billion to settle a Department of Justice (DOJ) criminal investigation into circumstances surrounding the certification of the 737 Max.
The US government launched the investigation in the wake of two Max crashes that killed 346 people. The DOJ charged Boeing with one count of conspiracy to defraud the USA.
Boeing's agreement with the DOJ, disclosed on 7 January, "resolves the department's investigation into the company relating to the evaluation of the Boeing 737 Max airplane by the Federal Aviation Administration," Boeing says.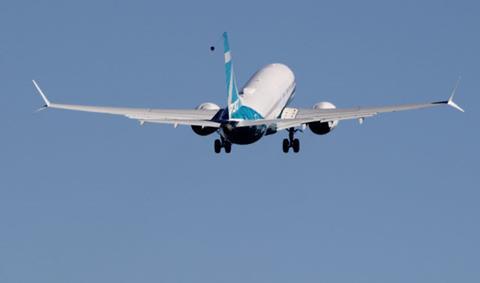 "As part of Boeing's resolution with DOJ, the department has agreed to defer prosecution of the company," it adds.
The crashes "exposed fraudulent and deceptive conduct by employees of one of the world's leading commercial airplane manufacturers," says DOJ acting assistant attorney general David Burns. "Boeing's employees chose the path of profit over candor by concealing material information from the FAA concerning the operation of its 737 Max airplane and engaging in an effort to cover up their deception. The $2.5 billion includes a $244 million penalty, $500 million in compensation to relatives of those who died in the crashes and $1.77 billion to airline customers.
The payments to airlines are compensation for "harm incurred as a result" of the Max's more than 20-month grounding".
"The agreement is based on the conduct of two former Boeing employees and their intentional failure to inform the FAA Aircraft Evaluation Group (AEG), the group within the FAA responsible for making pilot training determinations, about changes to the Maneuvering Characteristics Augmentation System (MCAS)," Boeing adds.
The company's agreement with the DOJ notes that that FAA "was not fully informed about MCAS's expanded operating range when it made its training determinations for the Max".
"This resolution holds Boeing accountable for its employees' criminal misconduct, addresses the financial impact to Boeing's airline customers and hopefully provides some measure of compensation to the crash-victims' families and beneficiaries," add the DOJ's Burns.
The US government filed the charges in US District Court for the Northern District of Texas.
Northern District attorney Erin Nealy Cox says Boeing's "misleading statements, half-truths, and omissions communicated by Boeing employees to the FAA impeded the government's ability to ensure the safety of the flying public".