Boeing's pause on 787 deliveries will continue until at least February, when the company expects to resume 787 deliveries following a several-month hiatus.
The company slowed, then halted 787 handovers last year so as to complete airframe inspections related to quality issues. The company has not delivered a 787 since October 2020, according to its figures.
Meanwhile, Boeing has continued producing 787s, though at a slowing pace. As a result, the company has accumulated an inventory of about 80 completed but undelivered 787s, chief executive David Calhoun says on 27 January.
But Calhoun anticipates that 787 deliveries should resume before the end of the first quarter 2021.
Boeing will not deliver any of the jets this month and will deliver "likely very few in February", he says. "We are looking forward to resuming deliveries… but work remains to be done."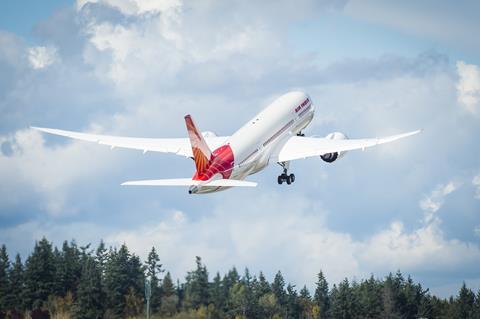 Calhoun adds that Boeing has "expanded the scope" of inspections, which now include reviews of "work done at supplier partners".
Details about the inspections have been sparse, with Boeing describing the problem as a "skin flatness issue" at "areas of the fuselage join".
A 12 January research report from financial firm Jefferies says, "The inspections are focused on certain components and the condition where construction and clamping does not align with the specific thresholds required".
"The issues have related to the aircraft's rear stabiliser, with two separate quality defects in the rear fuselage," it adds.
Calhoun insists the issue does not pose "safety-of-flight concerns" and that Boeing is "committed to taking the time to ensure each airplane meets our rigorous specifications".
"I have put very little pressure on the… team to do things too quickly," Calhoun says. "These specifications are incredibly exacting."
As for the 80 undelivered 787s, Calhoun predicts Boeing will be able to deliver "the vast majority" before year-end.
At the same time, Boeing is producing about five additional 787s monthly, equating to 60 of the jets annually.
That means that Boeing might be aiming to deliver as many as 130 787s in 2021, notes Credit Suisse aerospace analyst Robert Spingarn.
"We could see a weird dynamic where there are more 787 deliveries in 2021 than in 2022," Spingarn says.