Boeing is reportedly speeding up the transfer of all 787 aircraft production to its North Charleston, South Carolina plant.
In an internal memo to the airframer's 787 employees, first reported on in The Seattle Times on 23 December, the Chicago-based company says consolidation will occur in March 2021.
That is faster than the previously publicised timetable, announced in October, that had production moving out of the Seattle-area Everett plant by "mid-2021". In addition, a previously announced production rate cut will be implemented by that time as well, the memo reportedly says.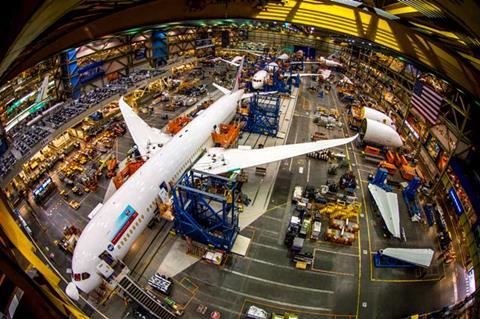 While confirming the existence of the memo, Boeing would not comment on its contents.
"As we continue to conduct comprehensive inspections on undelivered 787s to ensure each meets our highest standards prior to delivery, we're leveraging our Everett and South Carolina facilities to complete inspections, and any rework, as necessary," the airframer tells FlightGlobal.
"As we've shared previously, we're lowering our 787 production rate from six airplanes per month to five airplanes per month in 2021. As we make this transition, our 787 teammates in Everett will complete inspections and any rework as needed," Boeing adds.
Earlier this month Boeing had said it would be reducing its production rate to five per month by the middle of next year, with the rate change coming as Boeing accumulates an increasing fleet of undelivered 787s. Deliveries of the jets have been slowed by the pandemic and by special inspections being conducted by Boeing following reports structural issues with the aft body fuselage section of the jets.
Boeing delivered just 53 787s this year through November – equating to less than five jets monthly, on average.
In 2019, Boeing was making 14 Dreamliners monthly.
The move of all 787 production to its North Charleston, South Carolina plant is an effort to cut costs and restructure in the wake of twin crisis that dramatically affected the aerospace industry in 2020: the coronavirus pandemic and the 20-month grounding of the 737 Max.
With the 737 Max returning to the air following the FAA's recertification on 18 November, the airframer now is looking to concentrate on solving problems with the Dreamliner, and adjusting its production to accommodate lower demand for international travel as the global health crisis drags on.
In September, Boeing said it was inspecting the jets, following reports of issues with rear fuselage sections and with shims. At the time the airframer ordered the removal from service of eight recently built 787s which had been identified as suffering from two "distinct manufacturing issues". The company did not disclose further details, such as which airlines were affected or when these eight aircraft were built or in which facility.