Air taxi developer Wisk Aero has made clear that Boeing's backing extends well beyond financing to also include engineering, safety and certification support.
California-based Wisk revealed a few details on 24 January about its relationship with Boeing and said it intends this year to pick the location of new production site.
"It's not just capital, it is also the resources they bring to bear, having certified many aircraft," Wisk chief executive Gary Gysin says of Boeing's support. "It's a joint development effort."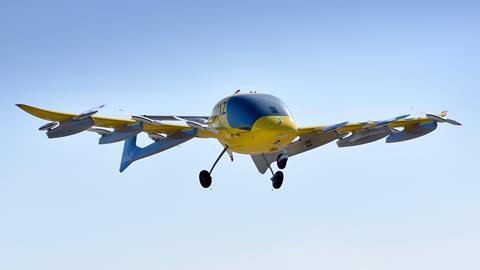 Gysin cites Boeing's experience with certification and engineering, saying Boeing "is integrated into our team".
His comments came shortly after Wisk disclosed on 24 January that it secured $450 million in funding from Boeing – funds adding to previous investment of undisclosed amount by the airframer in Wisk. Boeing became a Wisk backer in 2019.
Privately held Wisk has not disclosed other details about its financing. But Gysin says bringing an electric air taxi through certification and into service costs about $1.5 billion. Boeing's latest capital injection is about one third of that amount.
Boeing will bring its "certification experience" to bear in helping Wisk's all-electric aircraft clear the Federal Aviation Administration's certification review, says Boeing vice-president and chief engineer of sustainability and future mobility Brian Yutko.
Support for Wisk will also come from Boeing subsidiary Aurora Flight Sciences, which specialises in developing autonomous flight technology, Yutko adds.
Gysin and Yutko spoke to reporters but provided few details about Wisk's plans. The company is developing an electric vertical take-off and landing (eVTOL) aircraft for what the sector's proponents describe as a massive market opportunity. They envision networks of air taxis flying short routes within the world's most-congested cities.
Some Wisk competitors – names like Archer Aviation and Joby Aviation – have promised to have electric air taxis in service within just a few years.
Wisk stands out in having disclosed no such details. As for a timeline, Gysin says only that Wisk will reach certification when regulators are convinced its design is safe.
"You can debate which year, but this is going to happen," he adds.
Gysin also declines to reveal details about Wisk's envisioned production aircraft, saying only it will be larger and fly farther than Wisk's prototype, called Cora. That aircraft has 22nm (40km) range and speed of about 87kt (161km/h).
But Wisk is closing in on picking a site to manufacturer its commercial air taxi.
"We will be deciding this year where we will do our high-rate manufacturing," Gysin says.
Aerospace analysts view production capability and efficiency as factors that will make or break nascent air taxi developers. To keep production costs (and sales prices) low, the companies must develop efficient production systems and produce their aircraft at relatively high rates.
Wisk's plan calls for it to have 2,000 of its air taxis flying within five years of certification, Gysin says. At least initially, Wisk will also operate the aircraft.