Boeing has reduced the number of 777X it expects to produce over the life of that aircraft programme from 400 to 350 aircraft – a 12.5% cut.
The company made the adjustment to the number of units within its 777X "programme accounting" method, says Boeing chief financial officer Greg Smith on 27 January.
Through programme accounting, Boeing expenses portions an aircraft programme's total cost based partly on the number of jets that it anticipates producing over the life of the programme.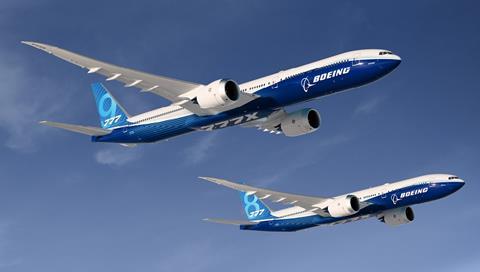 "As a result of what we are seeing in the marketplace with the current pandemic, as well as how we are seeing the marketplace shift in the near term, we reduced our assumptions," says Smith, who spoke during Boeing's 2020 earnings call.
The coronavirus pandemic has levelled demand for new, large intercontinental widebodies like 777s.
The reduced programme quantity is part of the reason why Boeing took a $6.5 billion 777X charge in the fourth quarter, Smith says. The charge also reflects the programme's freshly delayed timeline. Boeing now predicts it will begin delivering 777-9s – the first 777X variant – in "late 2023", not 2022, as previously projected.
Smith predicts the programme will turn "cash-flow positive" one to two years after 777X deliveries begin.
The airframer holds unfilled orders for 299 777X, according to Cirium fleets data.
Credit Suisse aerospace analyst Robert Spingarn describes programme accounting quantities as best estimates based on several factors, including existing orders and expected demand.
Pulling out 50 777Xs is "not a huge" reduction, but the move "tells you [the programme] is going a little bit in the wrong way," says Credit Suisse aerospace analyst Robert Spingarn.
But, Boeing can always add jets back into the accounting quantity if market conditions support such a move, Spingarn adds.
Story updated on 27 January to include details about the 777X delay and Boeing's estimates for when the jet will break even.