Boeing has cut its planned 2021 787 production from six to five jets monthly in response to the long-haul air travel sector's lack of recovery.
Chief financial officer Greg Smith announced the further rate cut on 4 December during a transportation conference hosted by Credit Suisse.
"We've made a modest adjustment to the 787 production rate from what we'd previously announced," Smith says.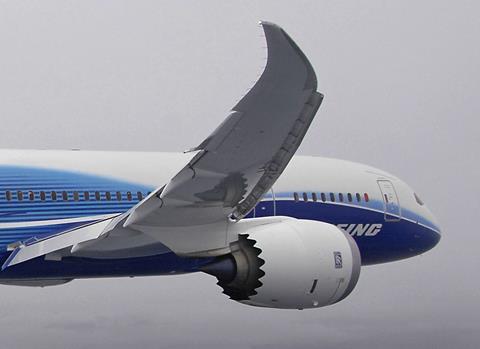 The Chicago airframer delivered no 787s in November, he adds.
Boeing will hit the five-monthly-rate by the middle of next year, and until then intends to produce less than ten jets monthly.
The rate change comes as Boeing accumulates an increasing fleet of undelivered 787s; deliveries of the jets have been hampered by the pandemic and by special inspections being conducted by Boeing.
In 2019, Boeing was making 14 787s monthly.
Then the pandemic struck, leading Boeing in July to announce plans to reduce 787 production to six jets monthly next year.
The pandemic also forced Boeing's decision to stop making 787s in Everett in 2021. It will shift all 787 manufacturing to its other 787 site in North Charleston, South Carolina.
Smith attributes the new five-monthly 787 rate to lack of rebound in international travel.
"Clearly, international passenger traffic is still the hardest hit, remaining at about 90% below 2019 levels at this time last year, which is impacting the overall near-term demand for widebody markets," Smith says.
Boeing delivered just 53 787s this year through November – equating to less than five jets monthly, on average.
The delivery slowdown has caused Boeing's stockpile of undelivered 787s to swell.
That stockpile now stands at 56 jets, according to Cirium data. Those jets have undergone first flight but have not been handed to customers, which makes them what Cirium head of consultancy Rob Morris considers "undelivered inventory".
By comparison, Boeing's undelivered inventory included 31 787s at the end of July, data shows.
Covid-related travel restrictions and sunken demand have slowed deliveries, but so too have airframe inspections being completed by Boeing, the airframer has said.
In September, Boeing said it was inspecting jets, following reports of issues with rear fuselage sections and with shims.
"The additional time that we are taking to inspect and ensure that each of our 787s are delivered to the highest-quality standard is taking longer than we previously anticipated," Smith says.
Still, he insists the 787 has a bright future.
"We do remain very confident in the long-term outlook, and certainly the health of the 787," he says. "The long-term potentials, post-pandemic, are very robust."