Boeing is urging 16 operators of 737 Max jets to address an electrical system concern before further operating the aircraft.
The company has disclosed few details about the problem, and the Federal Aviation Administration did not respond to a request for comment.
"Boeing has recommended to 16 customers that they address a potential electrical issue in a specific group of 737 Max airplanes prior to further operations," the company says on 9 April.
"The recommendation is being made to allow for verification that a sufficient ground path exists for a component of the electrical power system."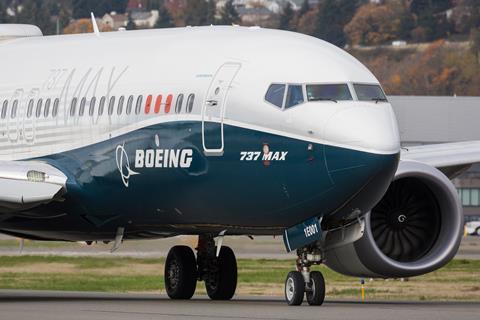 Boeing adds that it is working "closely with the US Federal Aviation Administration on this production issue".
Emergence of the issue comes five months after the FAA lifted the Max's grounding.
"We are also informing our customers of specific tail numbers affected and we will provide direction on appropriate corrective actions," Boeing adds.
The company does not say how many aircraft are affected by the issue.
Boeing says it is "premature" to estimate how long repairs to the jets might take, but adds that the maintenance work could take "a matter of hours or days".
The global fleet of in-service 737 Max stands at 176 aircraft, according to Cirium fleets data. Those jets are operated by 22 airlines, most based in North and South America, but with some based in Europe, Cirium shows.