Boeing's plan to shift all 787 production to South Carolina will indeed save cash, but savings will be a relative small percent of the programme's total expense, financial analyst say.
That is because so much of the 787's dollars go to suppliers.
Investment research company Jefferies estimates Boeing will save $850 million annually under its plan to move all 787 production to its North Charleston, South Carolina site, according to a 15 October report.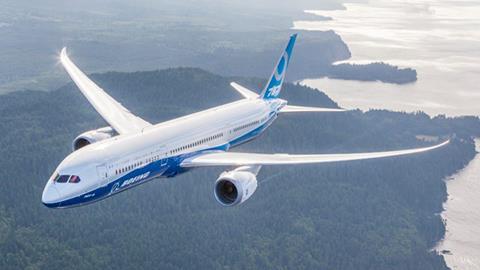 JP Morgan, meanwhile, remains unsure just how much Boeing will save.
"The move should also bring long-term savings that can help profitability, but with 70% of 787 costs in the supply chain – and not all of the remainder in final assembly – the size of the benefit is unclear," JP Morgan says in a 14 October report.
Boeing currently produces 787s in both Everett and North Charleston. The company on 1 October said it will stop making the jet in Everett, consolidating all 787 work in North Charleston in mid-2021.
The shift comes after tepid demand led Boeing this year to begin cutting 787 production to six jets monthly in 2021, down from 14 monthly in 2019.
The $850 million that Jefferies estimates Boeing will save by ceasing 787 work in Everett represents about 10% of the 787 programme's total annual expense, the firm concludes.
Boeing will spend about $7.5 billion to make 787s in 2020, split evenly between Everett and North Charleston sites, according to Jefferies' report.
If Boeing were to maintain both sites, the total cost would climb to $8.5 billion in 2023.
But the cost would be about $7.6 billion that year – 10% less – if Boeing only produces 787s in North Charleston as planned, Jefferies estimates.
The savings in Jefferies' math come solely from less "fixed" costs related to facilities; Jefferies' leaves variable and supplier costs unchanged.
Boeing lost $3 billion in the first half of 2020 and plans to release third-quarter financial results on 28 October.
Jefferies estimates the company will lose $5.3 billion for the full-year 2020, while JP Morgan anticipates a $4.2 billion loss.
Jefferies predicts Boeing will deliver 138 aircraft this year, bumping up in 2021 to 508 jets, and in 2022 to 619 aircraft.
Both research firms anticipate a surge of 737 Max deliveries in 2021. JP Morgan estimates about 400 Max hand offs next year, while Jefferies puts the figure at 360.
Boeing has said it expects regulators will certificate the Max before year-end.
The company delivered 98 jetliners, including military derivatives, in the first nine months of 2020. Those included 49 787s.