Boeing's 777-9 is meeting performance expectations and the company still expects to begin delivering the jets in late 2023, despite repeated delays and close scrutiny by regulators.
"The airplane is performing well and in-line with our customer commitments," Boeing chief executive David Calhoun says on 27 October. "We will validate these results."
"We still expect we will deliver the first 777X in 2023," he adds, speaking during Boeing's third-quarter earnings call.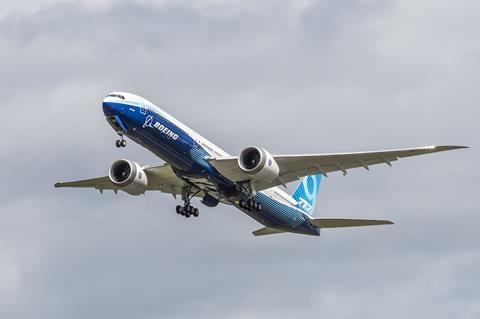 Some analysts on the call questioned why Calhoun is so confident more delays are not forthcoming, given repeated delays and the FAA's newly intense attention to detail.
"The time we gave ourselves," Calhoun replies. "We put a lot of time into this – [time] that, prior to the 737 Max [recertification], we never would have included."
In January, Boeing delayed its first 777-9 delivery from 2022 to late 2023. Calhoun says that move reflects "everything we learned about the Max".
"Nothing at this moment in time… has suggested that the [777-9] plan isn't still workable," he adds.
Boeing's late-2023 timeline reflects the Federal Aviation Administration's closer review of the jet, which has already included what Calhoun calls "pauses". He says the FAA has taken the position of, "Boeing, get your house in order before we run this test".
At one point, Boeing had hoped to deliver the first 777-9 in 2020. The jet completed its first flight in January last year.
Separately, Calhoun says Boeing is "evaluating the timing of launching a freighter version of the 777X", though he provided no details.