Boeing confirms it will delay deliveries of some 787s due to a new quality problem involving fittings on the widebody jets' horizontal stabilisers.
The US manufacturer says it discovered the problem on 787s in its inventory of aircraft that are produced but not yet delivered.
"We are inspecting 787s in our inventory for a nonconforming condition related to a fitting on the horizontal stabiliser," Boeing says. "Airplanes found to have a nonconforming condition will be reworked prior to ticket and delivery."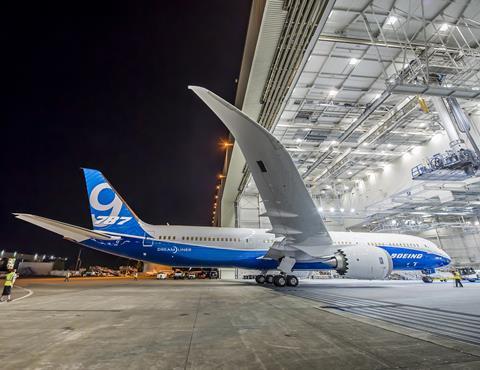 Boeing's commercial aircraft division has been working through a host of recent issues, including quality problems that have held up deliveries of 737 Max and 767s in recent months.
The company had halted 787 deliveries between November 2020 and August 2022 due to problems including an issue involving improper gaps between the type's composite fuselage sections.
Boeing says it is inspecting 787s in its inventory and that affected jets will require rework, causing some delivery delays. The company has about 90 787s in its inventory.
"We have assumed all may be affected but inspection will determine that," Boeing says. "At this time we do not expect that this issue will change our full-year guidance regarding 787 deliveries."
The company has been aiming to deliver 70-80 787s this year and had delivered 17 through April, its last month of available data.
The problem does not present "an immediate safety-of-flight issue and the in-service fleet may continue to operate", Boeing says. "We have notified the FAA and our customers and are keeping them informed of our progress."
Boeing says the latest problem involves an "attachment fitting on the horizontal stabiliser" of some 787s, and that shimming inside the fittings might not meet specifications.
Those fittings are provided to Boeing by a supplier and installed at a Boeing site in Salt Lake City, the company says without naming the supplier.
"Boeing's technical team is working to understand the full work statement to rework inventory airplanes prior to delivery," it says. "It is early, and we are still finalising the rework plan, but we would expect to be able to complete the rework within a couple of weeks per airplane."
The Federal Aviation Administration says it received notice from Boeing "about improper shimming around a bracket on the horizontal stabiliser of the Boeing 787 Dreamliner".
"Based on the facts and data Boeing presented, the FAA validated the company's assessment that there is no immediate safety issue for aircraft already in service," the agency says. "The FAA is in close communication with Boeing and will ensure that Boeing takes the appropriate steps to address the situation."
The FAA will not issue airworthiness directives related to the problem "until the matter is addressed to its satisfaction", it adds.