Order cancellations and the Russia-Ukraine war are among factors cited by Boeing as leading it to strip more than 140 aircraft orders from its backlog in March, leaving the company with negative order activity for the month.
On the positive side, Boeing landed new orders for 53 aircraft last month, though the company has still not resumed deliveries of 787s, Boeing says on 12 April.
In March, customers cancelled orders for 15 Boeing aircraft, including for 12 737 Max and three 787s. Specifically, lessor Aviation Capital Group cancelled one 737 Max, while Air China and lessors Avolon and CIT Aerospace each nixed orders for one 787. Undisclosed customers cancelled another 11 737 Max, Boeing says.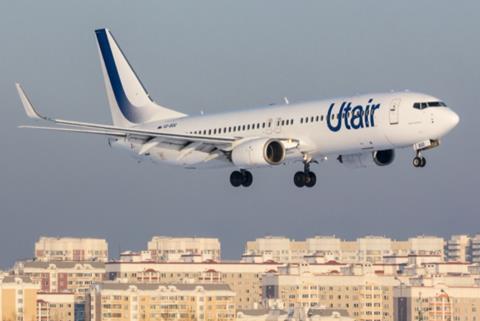 More significantly, Boeing in March stripped from its backlog another 152 orders because it doubts those deals will ever translate into actual deliveries. Boeing shifted the orders into a special accounting bucket reserved for uncertain sales called "ASC-606".
Boeing frequently moves orders into ASC-606, though typically not so many. It does so based on factors that include the financial condition of buyers.
But another factor was apparently at play, with Boeing citing "geopolitical events or related sanctions, such as those imposed by the current Russia-Ukraine conflict".
The 152 orders shifted to ASC-606 included 138 737s, eight 777s and six 787s. Separately, Boeing moved eight 737s and three 787s from ASC-606 back into its backlog, signalling it expects to deliver those jets. All aircraft in the ASC-606 bucket are backed by sales contracts.
Boeing does not disclose additional details about its ASC-606 adjustments, but backlog data shows that two Russia customers hold outstanding orders for a combined 34 jets. Those include UTair Aviation, with orders for 28 737 Max, and air cargo company Volga-Dnepr UK, with orders for six 777Fs.
Buyers of another 31 Boeing orders have ties to Russia, Cirium fleets data shows. Specifically, Timaero Ireland holds orders for 17 737 Max that are to be operated by Russian lessor VEB-Leasing, while SB Leasing Ireland has orders for 14 737 Max assigned to another Russian firm, Sberbank Leasing, according to Cirium.
Boeing did land notable new sales in March. Those included new orders for 47 737 Max, among them 32 jets ordered by lessor Air Lease, 14 ordered by unidentified customers and one Boeing Business Jet (BBJ), also ordered by an unnamed buyer. Additionally, Boeing took orders for six 777Fs from DHL in March, it says. By comparison, Boeing landed orders for 82 new jets in February.
Boeing delivered 41 aircraft in March, including 37 737 Max to customers including 777 Partners, Aeromexico, Air Canada, Alaska Airlines, Air Lease, Bain Capital Griffin, BOC Aviation, Dubai Aerospace Enterprise, Flydubai, Korean Air, Oman Air, Ryanair and Singapore Airlines. It also delivered one 737-700-based BBJ to an unnamed customer, two 737NG-based P-8 surveillance jets to the US Navy, one P-8 to South Korea's Navy, one 767F to FedEx, one 767-based KC-46 tanker to the US Air Force and one 777F to China Airlines, according to Boeing.
March's changes leave Boeing's backlog at 4,231 aircraft, down from 4,375 at the end of February. The backlog includes 3,365 737s, five 747s, 103 767s, 353 777s and 405 787s.
Boeing has delivered 353 737 Max since resuming deliveries in December 2020 following a 20-month grounding, it says.
Story updated on 12 April to clarify details about jets in the ASC-606 bucket.