The value of Boeing's commercial aircraft backlog sunk 25% in 2020 as customers scuttled orders and sales uncertainty led Boeing to shift jets out of its firm backlog.
The backlog was worth $282 billion at the end of 2020, down from $377 billion at the end of 2019, the company's 2020 securities filing shows.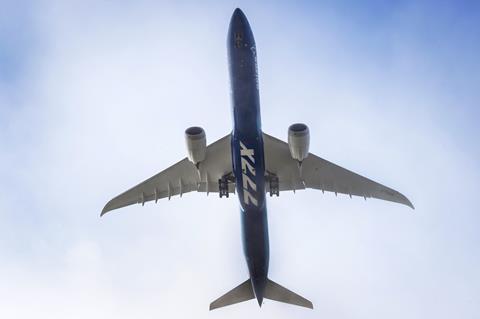 Boeing attributes the decline to factors including "deliveries in excess of new orders" and "aircraft order cancellations and changes in projected price escalation".
Another factor was "a reduction for orders that in our assessment no longer meet the accounting requirements", the company adds.
Those accounting requirements, known as ASC 606, require Boeing to remove jets from its backlog for customers that might, for various reasons, be unlikely to actually purchase jets on order. Boeing still holds firm orders for those jets, but has less certainty the deals will close.
During 2020, excluding deliveries, Boeing removed some 1,200 jets from its backlog. Those included 646 cancelled orders and some 550 jets removed to align with the accounting standards, data shows.
That trend has continued in recent weeks.
Since the start of 2021, Boeing has transferred another 168 jets into the ASC 606 bucket, including 39 737 Max, 118 777s and 11 787s, company data shows. Boeing disclosed those changes in January 2021 when reporting fourth quarter 2020 results. It says the changes apply to its 2020 order activity, not 2021 activity.
Boeing's backlog now stands at 4,055 aircraft.
Story corrected on 2 February to note that the Boeing backlog values are in billions, not millions. Story updated on 9 February to note that the 168 backlog adjustments disclosed in January 2021 apply to Boeing's 2020 backlog activity.