New regulatory requirements and development of a supplemental angle-of-attack (AoA) system continue to keep Boeing from making faster progress in achieving certification of its 737 Max 7 and Max 10.
Though the company's Max 7 still seems poised to receive regulatory clearance this year, the ability of Boeing to achieve certification of its Max 10 before a critical December 2022 deadline remains uncertain.
After that deadline, the US Federal Aviation Administration (FAA) will require that newly certificated aircraft have a modern pilot alerting system – something all Max models lack.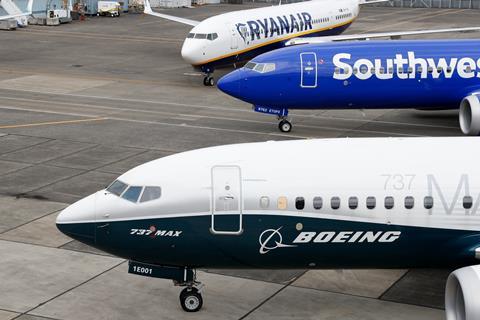 "We're working through a process which is different… than what we've done in the past," Mike Fleming, the Boeing vice-president charged with leading the 737 Max's return to service, said on 15 June.
"We are sort of learning as we go here," Fleming adds, speaking to reporters during a briefing held in Everett.
Progress has been slow partly because the FAA is no longer delegating, as it had previously, the evaluation of system safety assessments based on assumptions about pilot responses, Fleming says. Aircraft manufacturers design and certificate aircraft based on such assessments.
The FAA's tougher stance stems from 737 Max crashes in 2018 and 2019, which investigators attributed to erroneous activation of the jets' Maneuvering Characteristics Augmentation System (MCAS), a result of faulty AoA data. But investigators criticised Boeing's assessments of how pilots would respond to such a scenario – and the FAA's approval of those assessments.
"We've been… identifying the system safety assessments that have human factors assumptions associated with them," Fleming says.
The company has not, he adds, needed to "significantly redo" assessment work.
Addressing the Max 10's certification, Fleming says Boeing is "going through all of the development assurance activities" and working to secure a "type inspection authorisation" from the FAA. That authorisation will allow the company to move into Max 10 certification testing.
"We're very satisfied with the way the airplane has performed in our engineering test programme," Fleming adds. The Max 10 has completed more than 500h of flight testing, says Boeing.
The company's Max 10 development and certification work has also been complicated because Boeing is equipping the type with what European regulators call an angle-of-attack "integrity enhancement".
The European Union Aviation Safety Agency (EASA) required that system for the Max 10 as part of its agreement to lift the grounding of the Max 8 and Max 9. EASA also required Boeing update other Max variants with the system, according to a 2021 EASA document.
The AOA enhancements are "to further reduce crew workload following single AoA failures and to improve the system's reliability, " says the document.
Fleming says the change is "designed to eliminate… any of the erroneous indications that we think could happen on the airplane, and [to] significantly reduce the pilot workload associated with any kind of erroneous indication".
Asked to clarify, Boeing says the AOA update "involves a series of advancements, including new software monitors to evaluate and detect erroneous angle-of-attack data, a simplification of how this information is presented to flight crews, and hardware changes to allow crews to inhibit persistent alerts derived from erroneous readings".
Additionally, Fleming says Boeing is developing a cockpit "switch" that will allow pilots to shut off the Max's stick-shaker function in cases of erroneous activation.
"We still have a lot of human factors work to do," Fleming says.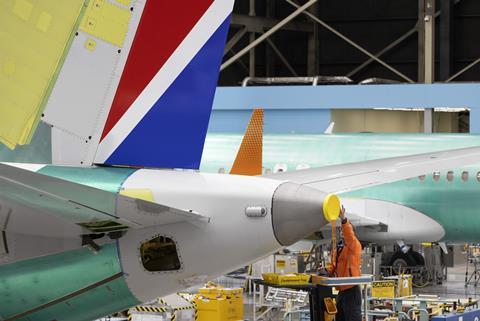 Boeing expects to deliver the first Max 10 in 2023, meaning the FAA seems unlikely to issue the type's certification before December, when the regulator will start requiring new aircraft types have a modern pilot alert system.
The US Congress established that requirement in response to the Max crashes.
Equipping the Max with such a system would be costly and time consuming, and would erode commonality between Max variants – a valuable selling point.
Fleming and other Boeing executives insist the Max is safe with its existing alerting system, and have warned that changes could erode safety.
Executives have also suggested Boeing might seek an exemption for the Max 10, though they have not elaborated.
"It's indeterminate… It's all dependent upon… how we progress with the regulatory agencies," Fleming says. "Between the FAA and our congressional members, I think… this will sort itself out."
The Max 7 seems poised to avoid the cockpit alert requirement, as Boeing has said it expects to have that type certificated before year end.
But even certification of the Max 7, which Fleming calls nearly identical to the Max 8 and Max 9, has been slow.
Asked about Max 7 delays, Fleming says, "It's documentation… We are in the process of working through all of the documentation requirements to provide to the FAA".
Story updated on 16 June to note the Max 10's accumulated flight hours. Story updated on 22 June to include details from Boeing about the AOA system changes.